'Harry Potter' Star Daniel Radcliffe Stole Glasses
By Swatilekha Paul, Gaea News Network
Monday, November 15, 2010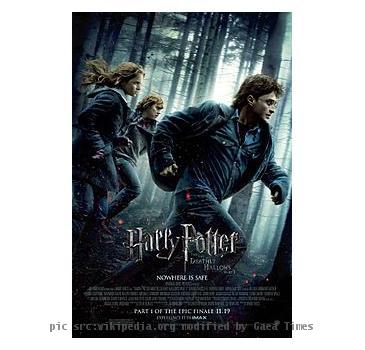 more images
LOS ANGELES (GaeaTimes.com)- As the release date of the latest flick of the 'Harry Potter' series "Harry Potter And The Deathly Hallows: Part 1″ gradually nears, updates about the movie as well as its stellar star-cast which are hogging the limelight with each passing day have accentuated the hype surrounding the movie all the more. Not only the audience but the star cast of the hit franchise are also feeling the blues as the forthcoming flick is likely to be the final film of the "Harry Potter' franchise. In a recent interview, Daniel Radcliffe who edges the lead character in the screen adaptation of J.K. Rowling's novel, jokingly added that he stole the glasses that he adorns in the movie on the sets as a keepsake.
While talking to a reputed media source, the 'Harry Potter' star revealed that he was so much in love with the geeky spectacles that he wears in the film that he wanted to keep it with himself so that he could cherish the ten long years that he has spent playing the lead role in the Warner Bros. franchise. Although initially the 21-year-old actor joked that he stole the glasses, later he confirmed that the spectacles were given to him as a gift after he asked for them.
However, this is not the first time that Daniel Radcliffe is keeping his 'Harry Potter' glasses, as the actor added that he has also kept the spectacles that he adorned in the first movie "Harry Potter And The Sorcerer's Stone." The film franchise would reach its conclusion with the release of "Harry Potter And The Deathly Hallows" Part 1 and Part 2 which would hit theaters this Friday and on July 2011, respectively.