"Titanic" To Re-Release In 3D
By Sayanee, Gaea News Network
Saturday, July 10, 2010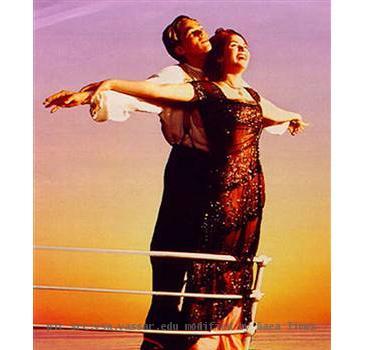 more images
LOS ANGELES (GaeaTimes.com)- It will be 100 years in the year 2012 that the Titanic met with the accident that shook the world, an accident which was later immortalised and almost made into a legend by film maker James Cameron in his 1997 movie of the same name. The Canadian film maker now plans to release his film once again, this time in 3 dimensional format. Speaking to the media was Rose DeWitt Bukator, one of the survivors from the 1912 accident, who recalls her experiences on the famous ship and her romantic relationship with an artist by the name of Jack Dawson. Narration of her events brings back to mind the passionate relationship that Jack and Rose shared on board James Cameron's "Titanic", two characters which had transformed the career graphs of Leonardo Di'Caprio and Kate Winslet.
After the super success of "Avatar", James Cameron seems to have fallen in love with his new-found format. With the world set to celebrate the 100th anniversary of the ship's sinking, the Oscar winning director plans to release "Titanic" yet again this time in the 3D format. James Cameron wants the film's release date to coincide with the date of the ship's sinking and hence audiences over the world will be able to watch Leonardo Di'Caprio and Kate Winslet romancing on screen in 3D by the month of April in 2012.
The Titanic which had set sail from Southampton in England in the year 1912 hit an iceberg midway in its journey with the ship cracking up in the middle of the ocean. Fox Studios will come together with James Cameron to present the "Titanic" 3D magic on screen.