"The Basketball Diaries" On My Network TV
By Sayantika Ghosh, Gaea News Network
Friday, June 4, 2010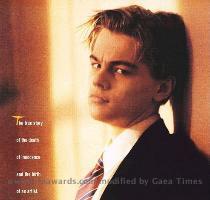 NEW YORK (GaeaTimes.com)- Leonardo Dicaprio starer movie "
The Basketball Diaries
" was aired on Thursday by My Network TV.
The Basketball Diaries
happens to be a Scott Kalvert film which has Leonardo Dicaprio and Mark Wahlberg in the lead roles.
The Basketball Diaries
takes it's elements of inspiration from the autobiographical novel of Jim Carroll by the same name. The novel is often regarded to be a fine instance of adolescent literature which narrates Jim Carroll's own encounters with drug, sex and his basketball career.
"The Basketball Diaries" depicts Jim Carroll the protagonist, who aspires to a school basketball star. He gets addicted to drugs and starts leading the life of a hustler where heroin becomes his regular addiction. In due course the events that follows, Jim Carroll finds himself in great distress as his close friend turns up to be patient of leukemia. Heroin and teenage sex puts his basketball career in jeopardy and the basketball court transforms into a worthy metaphor of his own troubled life.
The Basketball Diaries is a sharp portrayal of a teenager's life with great future in basketball which is ruined by his addiction towards heroin. "The Basketball Diaries" depicts how drug induced life snatched everything from Jim Carroll as the streets of New York became his shelter in his hustler days. It was with the help of an old neighborhood friend that Jim Carroll makes an attempt to figure out the right track of his life. The Basketball Diaries happens to be one of the very best movies of Hollywood that focuses upon drug addiction and its deadly aftermath and is a fine achievement in it's making.