The Cove Movie Wins Oscar
By Sayantika, Gaea News Network
Monday, March 8, 2010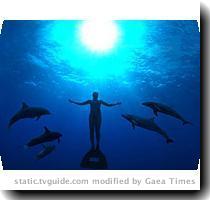 LOS ANGELES (GaeaTimes.com)- Louie Psihoyos' documentary drama "The Cove" has won the Oscar in the "Best Documentary Film" category at the 82nd Academy Awards.
The cove movie
happens to be an impeccable and appealing piece of investigative journalism with a dash of action thrill squeezed in.
Louie Psihoyos, the director who is also the leader of the Ocean Preservation Society along with Richard O'Barry, came up with this fantastic idea of bringing out the truth of dolphin capture and dolphin killing, which is practiced in Japan. A technically skillful team is being launched to figure out the truth behind the ruthless dolphin killing trade in the waters of Taiji. The tech team makes abundant use of spy gadgets like hidden microphones and cameras, in disclosing the truth of a small seaside village engaged in one of the major ecological crimes of the world.
The Cove movie is directed by Louie Psihoyos, who beautifully crafts out the entire episode of life-or-death covert operation. The photography is another asset of the movie. The Nat Geo lens work deserves loads of appreciations in their noblest attempt to bring to the forefront the glimpses of the heinous crime. It is indeed the photography of the entire events that threads the movie into one original piece that is spectacular and enticing.
The Cove movie happens to be the very first nomination and win for Louie Psihoyos. The Cove movie made it to the winner's stand, competing against four other documentary films namely "Burma VJ", "Food Inc.", " The Most Dangerous Man in America: Daniel Ellsberg and the Pentagon Papers" and "Which Way Home".