Neelima Azim Single Again?
By Naiwrita Sinha, Gaea News Network
Saturday, January 29, 2011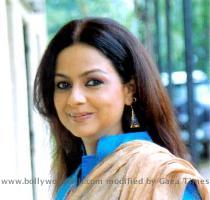 MUMBAI, INDIA (GaeaTimes.com)- Buzz has it that actor Shahid Kapoor's mother Neelima Azim's marriage is on the rocks. Yes, it is being said that the 48 year actress is once again single and perhaps also thinking of getting into another relationship! The news of the torrid relationship between Neelima Azim and singer Ustad Raza Ali Khan sparked after the latter recently shifted his base to Kolkata. An insider from the industry claimed that Neelima Azim and Ustad Raza Ali Khan are no more together which is why the singer shifted to Kolkata a few months back.
On being questioned about her turbulent relationship with present husband Ustad Raza Ali Khan, Neelima Azim, however, has rubbished the rumors. She sharply declined to accept the fact that there was any trouble brewing between the two of them. Neelima Azim, however, said that it was true that she and husband Ustad Raza Ali Khan had not been living together for some time but claims that the reason for that is not something else. She said that her husband had moved to Kolkata because of prospective job offers since he was not doing too well in Mumbai. The reason why she remained back at Kolkata was because of her film career which is entirely based upon Mumbai. She claims to have a tight schedule for her film is all set to be launched.
This was actress Neelima Azim's third marriage. Earlier she was married to actor Pankaj Kapoor. After getting separated from him when Shahid Kapoor was only three, she married actor Rajesh Kattar with whom she has a son named Ishann. Then she got hitched for the third time with the singer. Interestingly Ustad Raza Ali Khan too had three marriages before he tied the knot with Neelima Azim.