Bob Newhart Appears On "NCIS"
By Reema, Gaea News Network
Wednesday, January 19, 2011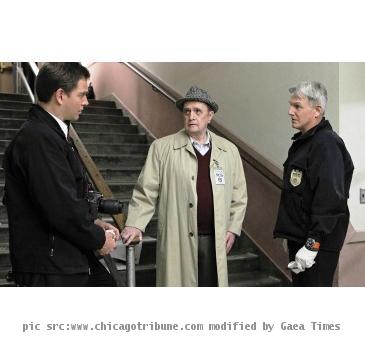 more images
LOS ANGELES (GaeaTimes.com)- After several years the audiences got a good glimpse of veteran actor Bob Newhart. Thanks to the popular show, "NCIS" Season 8 episode 12, entitled as "Recruited", where he made a gracious appearance with his role of Dr.Walter Magnus.
Dr.Walter Magnus was the medical examiner, before Dr. Donald "Ducky" Mallard (David McCallum) took up the office. Right now he is retired, but for some reason, which was initially not revealed in the episode, he decided to visit his old work place. At first, it seemed like a very casual visit, from a retired employee, who has been missing the place where he has worked for several years. However, later on it was revealed that Dr.Walter Magnus is an Alzheimer patient, who came to the hospital to revive his memories and test whether he remembers everything. Dr.Walter Magnus felt a different level of comfort as he walked through the halls of NCIS, dressed in a beige colored overcoat and a hat. A perfect outfit, that best essayed the character of an old retired man, who now has nothing productive to do in life. The way Bob Newhart colored the emotions of an old man with degenerating memories, incorporated a very emotional touch to the episode.
However, as Dr.Walter Magnus entered the hospital, the reactions of the people were worth the notice. Where Dr.Walter Magnus reminded him about his unique contribution to the organization, when he was an employee, Dr. Donald "Ducky" assured that his preceder is still the one who inspires him. Similarly, even Abby revived the old memories with the retired employee. However Gibbs was the one, who did not welcome him with too much of warmth, perhaps because the two have never worked before, or he was too pre-consumed with his own problems. Nevertheless, the way in which Bob Newhart portrayed the character of this old man, once again reinstated that he is still a living legend, even if he has curtailed the frequency of appearing on television.
Filed under:
Celebrity Facts
,
Celebrity Wisdom
,
Entertainment
,
TV Previews and Reviews
,
TV Show Synopsis
,
Television
,
World
Tags:
Bob Newhart
,
California
,
David McCallum
,
Dr.Walter Magnus
,
Los Angeles
,
NCIS
,
United States