Christina Aguilera Racy Photos
By Tias, Gaea News Network
Thursday, December 9, 2010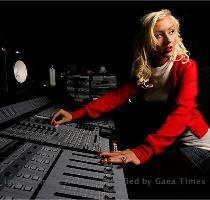 more images
LOS ANGELES (GaeaTimes.com)- Pop icon Christina Aguilera is by far the most searched celeb today as racy photos of the star have been leaked online. The photos have reportedly spread after a hacker had stolen them from her stylist's computer and published them on a website on Wednesday. The 'Burlesque' star's representative spoke to the media and said that the photos were taken in the privacy of Christina Aguilera's home. He also added that the photos were taken for private use between her and her stylist.
Christina Aguilera's representative has also added that he finds the actions of the hacker and those who have distributed the racy photos to be irresponsible and actionable. It is unclear at the moment whether Christina Aguilera has taken any action against the hacker or not. The photos, however, continue to create a stir on the web. Some bloggers have called the photos a publicity stunt and some have even raised the question about her stylist. Considering that Christina Aguilera was married at the time the photos were taken, it is evident that the personal stylist of the star was quite involved in the private affairs of the star.
The racy photos that have leaked on the web, Christina Aguilera is seen posing seductively in a closet-dressing room. She is seen wearing only glittery chains and jewelery with pasties covering her nipples. In another photo she is seen wearing a gown but the part covering her modesty is lifted by the 'Genie In A Bottle' star. Considering that her new movie 'Burlesque' released recently, some will have new reasons to catch the flick now.