"The Walking Dead" Episode 3 Aired On AMC
By Madhusmita, Gaea News Network
Monday, November 15, 2010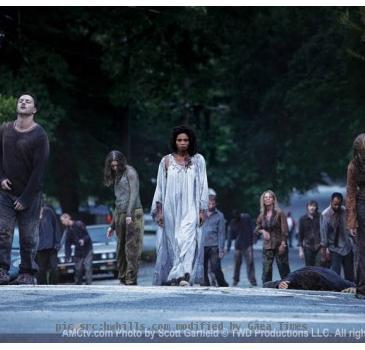 more images
LOS ANGELES (GaeaTimes.com)- All the loyal fans of "The Walking Dead" were waiting with bated breaths to see the latest episode of the AMC series. "The Walking Dead" episode 3 attracted viewers owing to its intrinsic plot and interesting storyline. The episode was subtitled as "Tell It to the Frogs" and it was written by Charles H. Eglee & Jack LoGiudice. It was marked as one of the important episodes because it showed Rick Grimes' reunion with his wife Lori and his son.
"The Walking Dead" episode 3 was directed by Gwyneth Horder-Payton and the story mainly revolved around Rick Grimes' reconciliation with his family and also the aftereffect of it. After Rick is rescued from the department stores, he meets his wife Lori and his son. It was a moment of happiness for him as previously he thought that they are dead. On the other hand, the audience comes to know that Shane lied to Lori and told her that Rick was in the hospital. However, the audience is startled to know that Shane and Lori became intimate when Rick was not there. Lori asks Shane to go out of her life as her husband Rick has returned.
On the other hand, Rick is determined to rescue Marle Dixon who is trapped in Atlanta. Marle's brother Darryl Dixon as well as Glenn and T-Dog accompanies him in his mission. However, when he reaches Atlanta, he finds out that Marle has already fled from the scene and he has cut off his hand to escape. Back in the camp things take a bad turn when Carol and her husband Ed fights over another woman and Shane beats Ed to death to vent out his anger. "The Walking Dead" episode 3 managed to live up to the expectations of the viewers and now the audience is waiting for the next episode to unfold new mysteries.