Chiranjeevi To Join Congress?
By Sayanee, Gaea News Network
Saturday, July 24, 2010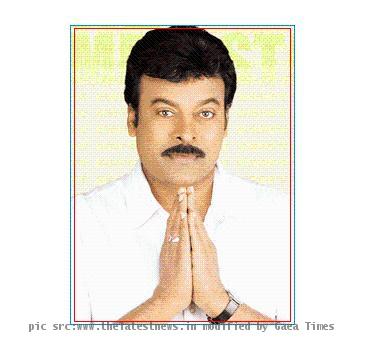 more images
HYDERABAD, INDIA (GaeaTimes.com)- Chiranjeevi, the actor turned politician is getting more and more involved with state politics every passing day. Politicians in the state of Andhra Pradesh are of the opinion that Chiranjeevi is trying his best to secure his ties with the Congress party. While the PRP - Congress merge was the first hint towards this step, Chiranjeevi's meeting with Sonia Gandhi in the recent past has added fuel to the fire.
Political analysts in the South Indian state are busy discussing the strengthening of relations between the Congress and PRP and Chiranjeevi's role in bringing about the two parties closer. The latest reports in the Andhra Pradesh political scenario suggest that Chiranjeevi wants to oust Y. S. Jagan from the PRP. In a statement released to the media by Pila Narasimhayya, the former PRP district president of Anantaput, he says that it was the actor's plan to get Y. S. Jagan out of their party, though the exact reasons have not been explained.
However the statements made by Pila Narasimhayya may have no base to it, especially because of the fact that he himself was removed from the PRP. It may even be his own personal method of vengeance. While this controversy remains unexplained, what is true is the budding relationship of Chiranjeevi and the Congress. Some of the recent events in the past hinted towards this end. Not only has the actor met with the Congress Chief Sonia Gandhi in the recent past, he has also vociferously supported the issues taken up by the Congress on various public podiums. Whether Chiranjeevi will join the Congress is a thing that time will tell.
Filed under:
Celebrity Facts
,
Entertainment
,
Media
,
Tamil Movies
Tags:
Andhra Pradesh
,
Chiranjeevi
,
Congress
,
Hyderabad
,
India
,
PRP
,
Sonia Gandhi
,
Y. S. Jagan