Library Of Congress On History Channel
By Sayantika Ghosh, Gaea News Network
Friday, June 11, 2010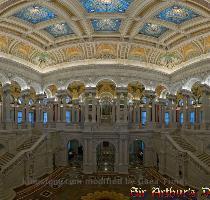 WASHINGTON (GaeaTimes.com)- The Library Of Congress which happens to be the biggest library of the world was featured in a special show as a part of the segment "Modern Marvels" on History Channel. The show depicted the interiors of Library Of Congress which preserves more than a million books and manuscripts which preserves the history of America in words and pictures.
The Library Of Congress show was titled as the "The Real National Treasure" which had the staffs of Library Of Congress sharing their experience since they started working for the library. Besides the Library Of Congress the Architect of the Capitol staffs depicted the entire process of cleaning, preserving and displaying the age old documents for the visitors. Not only the books, but also the age old manuscripts, maps and photographs forms an important part of the Library Of Congress collection. To clean and preserve the manuscripts and photographs the Library Of Congress staff employs the method of digitization which attempts to restore the color of the object and prevent the documents from further erosion due to handling.
The Thomas Jefferson building which happens to be one of the most prominent buildings of America was also showed in the same show as the viewers were offered a glimpse into the interiors of the building. This is one building which holds and preserves some of the greatest historic articles of Library Of Congress. They include the letters from the Founding Fathers, the violins of Guarneri and Stradivarius, the music compositions from Mozart that is written in his own handwriting along with the Lewis And Clark maps. The Library Of Congress show shall soon have a repeat telecast for all viewers who missed the recent broadcast.