The fairytale continues for Taylor Swift, who caps banner year with Grammy for best album
By Sandy Cohen, AP
Monday, February 1, 2010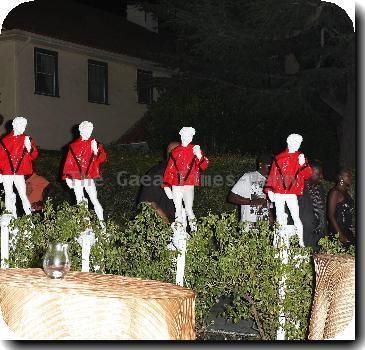 more images
Taylor Swift, Beyonce rule the Grammy Awards
LOS ANGELES — It's been a year of "Fearless" and fairytales for Taylor Swift.
The 20-year-old country cutie — who has been on a winning streak for months with her hit album, "Fearless" — won four Grammy Awards Sunday, including the night's top prize, album of the year.
"I did not see it coming tonight," she told reporters after the show. "This was a beautiful, beautiful surprise."
Earlier in the evening, Swift performed her song, "Today Was a Fairytale," which apparently became more and more true as the night went on. She also sang with one of her heroes, Stevie Nicks, on a mash-up that mixed Nicks' hit "Rhiannon" with Swift's award-winning "You Belong With Me."
Swift swiped the night's biggest prize, but Beyonce was the biggest winner. The multihyphenate entertainer made Grammy history as she collected six awards, the most won by a female artist in one night.
The 28-year-old diva won song of the year for her anthem "Single Ladies (Put A Ring On It), a trophy she shared with three fellow writers. "Single Ladies" also won prizes for best female R&B vocal and best R&B song.
Her song "At Last" was named best traditional R&B vocal performance and "I Am … Sasha Fierce" won best R&B contemporary album.
"This has been such an amazing night for me and I'd love to thank the Grammys," Beyonce said after winning best female pop vocal for "Halo." She also thanked her family and her husband, Jay-Z.
Swift said she was excited to find a place for her four awards, which included best country song and best female country vocal for "White Horse" and best country album for "Fearless."
Another country act to take a top award was the Zac Brown Band, which won best new artist.
Nashville rockers Kings of Leon celebrated throughout the night as the family band snapped up three trophies, including record of the year.
"I'm not going to lie, we're all a little drunk," said lead singer Caleb Followill. "But we're happy drunks."
Lady Gaga won two Grammys during the pre-telecast ceremony but didn't get to strut her headline-making outfits on stage during the prime-time show. She still showed her musical prowess, opening the program with her Grammy-nominated hit "Poker Face" before joining Elton John on a duet that melded her song "Speechless" with his classic "Your Song" in a performance that featured dueling pianos and glitter-painted faces.
Performances dominated the nearly three-and-a-half hour telecast. Usher, Celine Dion, Smokey Robinson, Jennifer Hudson and Carrie Underwood shared the stage during a tribute to Michael Jackson that also featured 3-D footage created for the comeback concerts Jackson was planning when he died.
Jackson's young children, Prince and Paris, accepted a lifetime achievement award for their late father.
"Through all his songs his message was simple, love. We will continue to spread his message and help the world," Prince said.
Haiti was also on the minds of many Grammy revelers, who wore red cross buttons in support of the devastated nation. Mary J. Blige joined Andrea Bocelli in a rousing rendition of "Bridge Over Troubled Water," which was not only designed to celebrate the 40th anniversary of the song's big Grammy wins, but to raise money for the people of Haiti. The performance, introduced by Haitian native Wyclef Jean, will be available via iTunes.com/target, with the funds going to earthquake relief.
Other standouts on stage included P!nk, who performed "Glitter in the Air" while dangling from the Staples Center ceiling on swaths of silk fabric, and the Black Eyed Peas, which were joined by dancers dressed as stereo speakers when they performed two songs from their Grammy-nominated album, "The E.N.D."
The Peas won three trophies, including best pop performance by a group for "I Gotta Feeling."
For Swift, the main feeling Sunday was elation.
"I just hope that you know how much this means to me … that we get to take this back to Nashville," she said as she accepted the best-album honor. "Oh my God, our families are freaking out in their living rooms. My dad and my little brother are losing their minds in the living room right now."
On the Net:
www.grammy.com
Filed under:
Entertainment
Tags:
52nd Annual Grammy Awards
,
Arts And Entertainment
,
Award Shows
,
Beyonce
,
Caribbean
,
Celebrity
,
Events
,
Grammys
,
Haiti
,
lady gaga
,
Latin America And Caribbean
,
Los Angeles
,
Michael Jackson
,
Music
,
North America
,
Stevie nicks
,
Taylor swift
,
United States
,
Us-grammys