"The Day The Earth Stood Still" Aired On AMC
By Tias, Gaea News Network
Saturday, January 15, 2011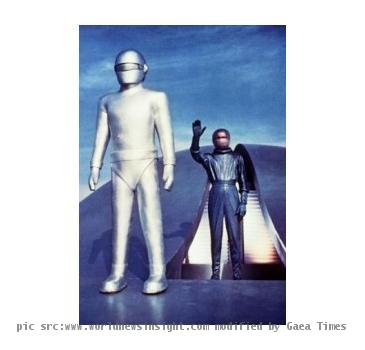 more images
LOS ANGELES (GaeaTimes.com)- The 1951 sci-fi flick "The Day The Earth Stood Still" is the movie has again achieved the admiration of movie-goers. The movie originally starred Michael Rennie and Patricia Neal in the lead roles. The film was remade in 2008, that had Keanu Reeves and Jennifer Conelly as the lead pair. The old version of the movie dating back to 1951 was aired on AMC on Friday night to celebrate its 60th anniversary. It was a treat to the eyes of nearly all movie buffs.
"The Day The Earth Stood Still" shows the arrival of some alien dignitary by the name of Klaatu who comes to earth accompanied by his deadly robot, Gort. They come to deliver the message that people of the earth must stop fighting within themselves. In the process he meets a woman, who gets involved in the complex mystery of Klaatu. The best part about the 1951's original version that was aired last night was that the entire movie, even after being of the sci-fi genre was without any kind of special effects. However, last night the movie did not fail to entertain the viewers.
"The Day The Earth Stood Still" that was aired on AMC received a huge viewership. It was a genuine lesson for the tech-savvy people to learn how sci-fi movies were made in those days, without using special effects. The movie is a combination of science-fiction as well had an element of horror. The credit of the movie undoubtedly goes to the amazing story line on which it was based. Even today, the movie is able to attract worldwide viewers as it did 60 years back.