'No One Killed Jessica' Relieves Sabrina Lall
By Arnab Ghosh, Gaea News Network
Friday, January 7, 2011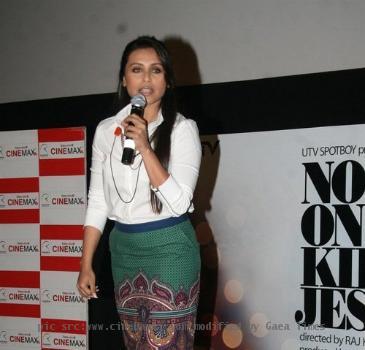 more images
MUMBAI, INDIA (GaeaTimes.com)- The much awaited film 'No One Killed Jessica' has been making waves in the media and movie buffs since its announcement and after its premier yesterday the frenzy and excitement surrounding it has reached a crescendo. The movie which is based on the shocking murder of aspiring model Jessica Lall in 1992 in a Delhi uptown eatery has Vidya Balan and Rani Mukherjee in two pivotal roles. The movie is getting rave reviews from the industry veterans and senior actors like Amitabh Bachchan and the two actresses are also getting accolades for the stellar performances they have put in. Actress Vidya Balan who has proved her versatile acting skills in acclaimed films like Paa and Ishqiya has essayed the role of Sabrina Lall, the sister of Jessica Lall. She has put in a understated and restrained performance in the film and her character has earned the support of the viewers.
Sabrina Lall herself said after the premier of the movie 'No One Killed Jessica' that she found the portrayal of the character and the movie relieving. She said after attending the exclusive screening of the film in the capital of India "It was eerie and moving. We were all deeply relieved by how true to life the film has turned out." this should come as a reason to cheer for director Rajkumar Gupta who earlier got encouraging reviews for 'Aamir', his directorial debut in Bollywood.
'No One Killed Jessica' put Sabrina Lall into anxiety and she was worried how the film will turn out to be. However, after seeing the film she is satisfied and feels that director has remained truer to the facts.
Filed under:
Bollywood
,
Celebrity Facts
,
Celebrity Wisdom
,
Entertainment
,
Media
Tags:
India
,
Jessica Lall
,
Mumbai
,
No One Killed Jessica
,
Rani Mukherjee
,
Sabrina Lall
,
Vidya Balan