Jennifer Aniston Looked Beautiful at People's Choice Awards
By Reema, Gaea News Network
Friday, January 7, 2011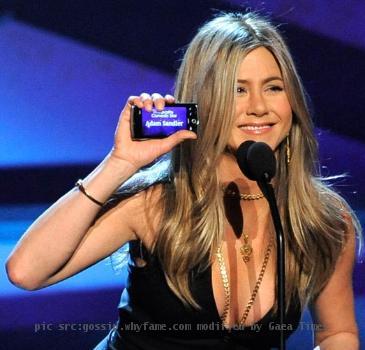 more images
LOS ANGELES (GaeaTimes.com)- Jennifer Aniston always gains the spot light no matter what she does and what she wears. Perhaps that is because, she is always in the best of her clothings and conducts herself with grace, marked with a dashing illuminating style. And that is exactly what she did once again at the People's Choice Awards in Nokia Theater in Los Angeles.
Jennifer Aniston was dressed up in her typically beautiful and simple hairstyle with no makeup, to highlight her natural beauty. She sported a Dolce and Gabbana Vest, which was rather deep necked, and exposed part of her cleavage. Nevertheless, the beautiful 41 year old did not looked vulgar in it. Teaming it up with a black tailored pant, she was all set to turn many heads towards her, and make them scream "I Love You", the moment she stepped on the stage to give away the Comedy Actor honor to Adam Sandler. To make her look all more unique at the People's Choice Awards, she sported two sleek necklaces, one of which was double layered, and was tucked inside her V-neck vest. Many people thought that it was probably stuck with a tape, as it never got displaced, even by an inch.
However, what disappointed or rather amused some of the people, was her slurred and fumbling speeches at the People's Choice Awards. Most of the people thought that probably Jennifer Aniston was drunk. The way she said "Hello People", depicted that she was probably under the effect of alcohol and she soon left the stage immediately after giving the honor, the moment she realized that some people were laughing at her.
Filed under:
Art and Culture
,
Celebrity Facts
,
Celebrity Wisdom
,
Entertainment
,
Featured Article
,
Hollywood
,
Lifestyle
,
Media
,
News and Gossips
,
Page 3 Events and Parties
,
World
Tags:
Adam Sandler
,
California
,
Dolce And Gabbana
,
Jennifer aniston
,
Los Angeles
,
Nokia Theater
,
People's Choice
,
United States