Sam Elliott In 'November Christmas'
By Naiwrita Sinha, Gaea News Network
Tuesday, November 30, 2010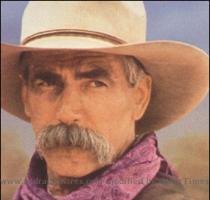 LOS ANGELES (GaeaTimes.com)- Ace actor Sam Elliott says that he loves the sentimental bonding and the spirit of togetherness. This is what he did exactly in his recent role in the television movie "November Christmas". Presented by Hallmark Hall of Fame "November Christmas" was aired on CBS on November 28, which saw Sam Elliot essaying the role of a farmer in the Rhode Island community who tries to help his new neighbors relocate themselves along with their little daughter Vanessa, who suffers from cancer.
The character Jess Sanford played by Sam Elliott some kind of a break away from all the previous roles that the veteran actor had essayed. His fans remember him for his hard edged roles, be it his war movie "We Were Soldiers", or his action film "Road House", where he played Patrick Swayze's mentor, going on to win many accolades for his performance. This new drama again revealed the acting prowess of the actor to his fans who are all in praises for Sam Elliott. No wonder this role has accentuated his existing popularity.
In a recent interview where he spoke about his role in "November Christmas" Sam Elliott said that his 95-year-old mother still lives with him and his wife, Katharine Ross, highlighting that the fact that he is extremely fond of family connections and just loves the community bonding, which is something related to his latest role. According to sources, many people said that in spite of the fact that "November Christmas" is a holiday tearjerker, they could not resist themselves falling to the charms of the ace actor, whose brilliant performance touched the hearts of those who watched the drama.