"November Christmas" Wins Hearts
By Naiwrita Sinha, Gaea News Network
Tuesday, November 30, 2010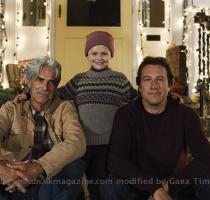 LOS ANGELES (GaeaTimes.com)-"November Christmas" which was aired on Sunday on CBS has won hearts. The beautiful drama directed by Robert Harmon and produced by Brent Shields was presented on November 28 by the Hallmark Hall of Fame. The television movie starred Emmy Award- and Golden Globe Award-nominee John Corbett, Emmy Award-nominee Sam Elliott, Karen Allen, Sarah Paulson, and Emily Alyn Lind.
"November Christmas" revolves around a little girl named Vanessa played by Emily Alyn Lind. She is the daughter of the couple named Tom and Beth Marks played by John Corbett and Sarah Paulson who are new in the town. The Sanford couple played by Sam Elliott and Karen Allen is their neighbor. On seeing the plight of the child, the Sanford couple is moved as they are reminded of their personal tragedy of their son's death. When Jess Sanford, goes to visit the ailing child he is deeply touched to hear the little child's deepest wish of going back home for Christmas. This is when he takes up the initiative to fulfill her Christmas wishes and accumulates the neighbors in the Rhode Island community to do something special for the little girl.
The audiences were left glued to the television screens when Vanessa returns from the hospital only to see all the houses decked up in Christmas style. The scene where the neighbors are all standing outside in high Christmas spirits, not caring that it is still the month of November and 25th of December is far away, touches the hearts of many. The scintillating drama had audience in tears as the brilliant performances by the actors managed to strike a chord with the viewers.