Yosemite National Park Welcomes Oprah Winfrey
By Madhusmita, Gaea News Network
Saturday, October 30, 2010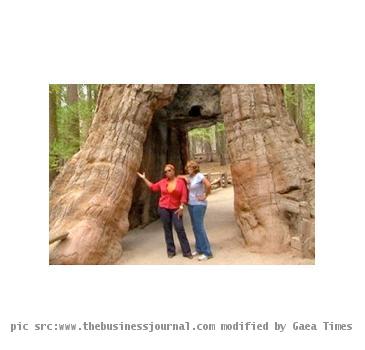 more images
YOSEMITE NATIONAL PARK (GaeaTimes.com)- The American television icon Oprah Winfrey visited Yosemite National Park on October 1. Last night, the host of "The Oprah Winfrey Show" aired the first installment of her visit to Yosemite National Park with her best friend Gayle King. The audience watched how the most influential woman in the world enjoyed her trip to the National Park like camping, cooking, fly-fishing, mule ride etc.
Oprah Winfrey said that ranger Shelton Johnson had been requesting her to pay visit at the Yosemite National Park from 2004. The media mogul also commented as to why more African Americans are not seen in the national parks. However, Oprah Winfrey told her studio audience at the end of the show that that she would never "do that again". In one of the clips Gayle King says that she has no interest in seeing a "bear", however, her friend, Oprah Winfrey acted like she wanted to meet a bear!
The park rangers were happy to see Oprah Winfrey and her friend in the park as they feel their visit would continue to drive tourists in the future. Shelton Johnson said that Oprah Winfrey not only responded to his letter but also responded to what he told her. He said that when Oprah Winfrey heard that all the Americans own the Yosemite National Park but all of them do not visit the place, she wanted to do "something" about it. The rangers were impressed with Oprah Winfrey as she engaged herself completely with the experience and enjoyed her time. Scott Gediman, one of the park rangers said that Oprah Winfrey was playing music and enjoying her time with the people of Yosemite National Park.
Filed under:
Celebrity Facts
,
Entertainment
,
Media
,
News and Gossips
,
TV Show Synopsis
,
Television
,
World
Tags:
California
,
Gayle King
,
Oprah winfrey
,
Shelton Johnson
,
The Oprah Winfrey Show
,
United States
,
Yosemite National Park