Surprise guest Harrison Ford welcomed to his first Comic-Con with rousing standing ovation
By AP
Saturday, July 24, 2010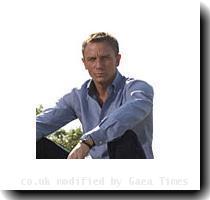 more images
Favreau, Ford, Craig surprise fans at Comic-Con
SAN DIEGO — It was as though Han Solo himself had stepped into the San Diego Convention Center.
Harrison Ford made a surprise appearance at Comic-Con Saturday, and the crowd of some 6,000 sci-fi and comic book fans greeted him with a sustained standing ovation unmatched by any other during this year's event.
Two security guards playfully brought him out in handcuffs.
The "Star Wars" hero smiled bashfully, seemingly moved by the warm welcome.
"I just wanted to make a living as an actor," he said. "I didn't know about this."
Ford was on hand to help present his new film, "Cowboys & Aliens," joining a panel that included co-stars Daniel Craig, Sam Rockwell, Olivia Wilde and director Jon Favreau.
The film looks like an old-fashioned Western when suddenly a spaceship arrives. Favreau said he aimed to balance the two genres without relying on too many computer-generated effects.
"The take was make a by-the-book Western right down the middle … and mix it with the type of sci-fi movie I grew up with, before they had CG when it was verging on horror," he said. "Then just use GCI to do what they couldn't do back then."
"Cowboys & Aliens" is set for release next summer.
Filed under:
Entertainment
Tags:
Animation And Comics
,
Arts And Entertainment
,
Books And Literature
,
California
,
Comic-con
,
Daniel Craig
,
Movies
,
North America
,
San Diego
,
United States
,
Westerns