When Recently Home Minister R.R. Patil Saw Red Alert-The War Within, I Told Him That After Working As A Naxalite In The Film, I Was Even Ready To Mediate Between The Government And The Villagers To Bring About A Social Revolution- Sunil Shetty
By SAMPURN
Thursday, July 8, 2010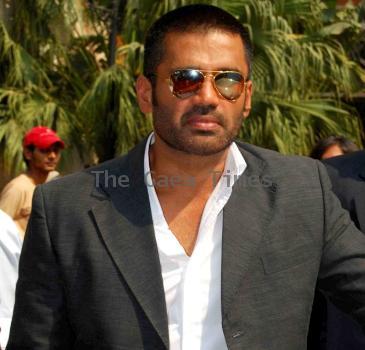 July 8, 2010 (Sampurn Wire): On the eve of the release of his latest film Red Alert- The War Within, Sunil Shetty confesses to Jyothi Venkatesh that he feels that it is time for him to grow as an actor and do serious cinema, now that he has been appreciated for his performance in the film by his peers
Tell me about your character in Red Alert- The War Within!
Red Alert - The War Within directed by Ananth Mahadevan and produced by T.P. Aggarwal is a true story though it has been scripted. Narsimha is a real life character, who actually lived in Tamil Nadu. Bullet for Bullet is a wrong presumption that we have about Naxalites. I feel that it is high time that our government thought of adopting villages which have the problem of the basic necessities. It is indeed very sad that we give aid to foreign countries, but give a blind eye and a deaf ear to the problems faced by the villagers in our own country.
Would you say that it is the best role in your career till date?
From the point of view of the character, I should confess that my role as Narsimha in Red Alert-The War Within is one of the best that I have played in my career as an actor because it shows the great journey of the character from being just a simple farmer to a Naxalite with a gun in his hand. What intrigued me about the character of Narsimha is that it is a very powerful one and yet weak physically. I am very confident about the film working, because you will not see me as Sunil Shetty but as Narsimha.
How tough was the role for you as an actor?
I would even go to the extent of stating that though mentally it was not tough, physically it was more challenging to play the role. Every day I had to walk for one hour to the jungle along with the other actors to get to the location which was a dense jungle, which was located in the outskirts of Tirupati. At the end of the day, I was totally exhausted. Besides the fact that I had to wear a lungi for my character, itching small particles of dust used to fall from the trees and we in turn, really itched to go back to our hotel to have a shower every day.
After working in the film, are you now able to understand the gravity of the problems of the Naxalites?
After acting in the film Red Alert- The War Within, as a Naxal, I have realised that the government does not plough back the taxes which it collects from the common men for our benefit. Naxalism is a big issue plaguing the country today but then I feel that while you can easily combat terrorism, you cannot combat when it comes to the thought and hence it is not just a problem which has to be faced by the government but every one of us in the country.
What have you decided to do to pledge your support to the Naxalites?
When recently our Home minister R.R. Patil saw our film, I even told him that after working as a Naxalite in the film, I was even ready to mediate between the government and the villagers to bring about a social revolution. I had even gone to Kargil to express our solidarity with the armed forces when things were still not normal and the war was on with India and Pakistan some years ago.
How did you prepare for your character in the film?
To play a weak Naxalite was tough because for nearly two months I could not do any kind of exercise which I normally do in Mumbai. Though I had stopped exercising, I had a controlled diet to maintain my lean frame as a farmer. As an actor, it was so intense every day, because I had to act with well trained actors from the National School of Drama, and even the smallest of the character actors was very good. It was not tough to know the lingo, because Hyderabadi Hindi has always fascinated me. Raman Bharadwaj, who had translated the English script written by Aruna Raje helped me to get the nuances of the lingo.
How did you overcome your fright in front of the other actors?
It was Danny who had once encouraged me on the sets of a film in which we both were working together by telling me that since a film sells on my name and not of the other actors in a film, I should not unduly worry about the performance of any other actor or get cold feet when I have to share a frame with any powerful actor. I could survive as an actor in the film because of the confidence which my own stardom had given me or else I would have been eaten kachcha by all the other co-actors of mine in the film. I even ended up bagging the award for the best actor in South Asian International Film Festival in New York last year. Red Alert -The War Within had also bagged the award for Director's Vision at Stuttgart Film Festival last year for Ananth Mahadevan.
How do you feel when people who had scoffed at you as a muscleman admire you now for your acting ability?
An actor basically needs the right script to prove his caliber. My performance in both Dhadkan and Hera Pheri were appreciated a lot because I played the common man, made of flesh and blood and not larger than life characters in both the films. The role I played in Border was also a very real character with which the masses could easily identify themselves with.
How busy are you as an actor nowadays?
Though the film industry believes in commercial success, thankfully I have never had a shortage of work. Even now I am busy as an actor. Among the films that I have up my sleeves right now are Anees Bazmi's Thank You as well as No Problem. I am also all set to be a part of both J.P. Dutta's next film after a long hiatus after his I and Priyadarshan's next film titled Bullet Train, in which Ajay Devgn and Riteish Deshmukh will be my co-actors.
You do not seem to concentrate on your production house of late!
It is true that I have not been concentrating on production because I am basically an actor and not a producer. I feel that it is time for me to grow as an actor and do serious cinema like Red Alert –The War Within. Ananth has now provided me with another good script and we may work together on that project too.
– Jyothi Venkatesh / Sampurn Wire