'Lahore' director moves to sci-fi, historical films (Cinema Snippets)
By IANS
Saturday, April 24, 2010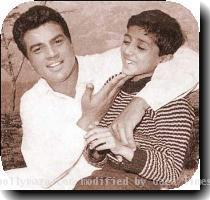 NEW DELHI - Sill basking in the success of his cross-border sports film "Lahore", debutant director Sanjay Puran Singh Chauhan is working on two magnum opus projects, including a sci-fi film.
"I am working on two projects now - a sci-fi and a historical. I'll start with the sci-fi film by the end of the year and I am keeping all of it very confidential. I am not going to tell even my actors about it this time," Chauhan told IANS.
"Right now we are working on the story and once everything is finalised, we will zero in on the cast, etc," he added.
Chauhan's "Lahore" has also been sought by US studio Hollywood Gang for a remake, making it the first Indian film to be remade there.
-*-
'Shor' based on short film by same name
Ekta Kapoor's upcoming movie "Shor" is gaining all the right popularity thanks to US-based Indian actor Sendhil Ramamurthy, who makes a Bollywood debut with it. But not many know that the Krishna D.K. and Raj Nidimoru-directed movie is based on a short film by the duo.
"When Raj and D.K. sent me the offer (for 'Shor'), they also sent me the script and the short film that 'Shor' is based on. They did it in 2008 and it went to the Cannes Film Festival," Sendhil told IANS over phone from Los Angeles.
"I saw the short film first and once I saw it I was just blown away by it… I signed it right away," he added.
There are three storylines in "Shor".
"My storyline is in English as my character is an NRI and the other two storylines are in Hindi," said Sendhil.
Apart from "Shor", Sendhil will also be seen in Gurinder Chadha's upcoming comedy "It's A Wonderful Afterlife".
-*-
One should not remake old films: Sunny Deol
Farhan Akhtar might have successfully remade Amitabh Bachchan-starrer "Don", and Fardeen Khan is planning to remake his late father Feroz Khan's hit "Qurbani", but action star Sunny Deol won't recreate any of his father Dharmendra's films as he is strictly against remakes.
"I don't think one should or can recreate any of our older films because there was magic in those films created by the actors, the directors and the period they were set in. So you can't really recreate that," Sunny told IANS.