"Pretty Little Liars" Episode 12 Aired
By Madhusmita, Gaea News Network
Tuesday, January 11, 2011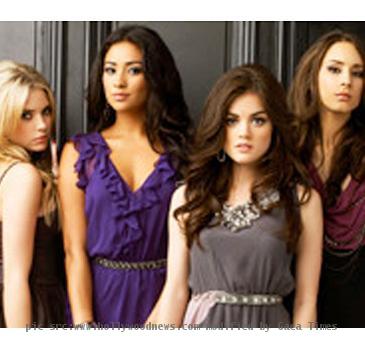 more images
LOS ANGELES (GaeaTimes.com)- The latest episode of "Pretty Little Liars" was aired on ABC last night and it was subtitled as "Salt Meets Wound". It unfolded some new mysteries of Emily, Hanna, Aria and Emily's life. Last night's episode acted as a cliffhanger as it appeared that Hanna knows who "A" is but her friends are not sure about it. Last week, the audience saw that the four friends coming to a conclusion that the person who killed Alison and "A" are two different people. The episode was wrapped up in mysteries and secrets as the friends are still plagued by "A"s continuous messages and threats.
"Pretty Little Liars" saw many skeletons coming out of the closet in the highly anticipated episode. Hanna is released from the hospital but she is still confined to the wheelchair. "A" continues to haunt her with messages and threats and the online preview of the next episode shows that "A" would intimidate her to go back to her criminal days. However, though Emily, Aria and Spencer try to lighten up Hanna's mood, she is still perturbed and afraid of "A". On the other hand, Ezra still does not know that Noel has seen her kissing Aria. Moreover, Aria again fails to tell Ezra about it.
Spencer's relationship with Alex becomes complicated when Emily invites Maya for dinner. Emily feels that if she introduces Maya to her parents then things between them would become smooth. The latest episode of "Pretty Little Liars" was woven in such a way that it kept its audience riveted to their seats till the end.