"Pretty Liitle Liars" Episode 9 Creates Storm
By Madhusmita, Gaea News Network
Wednesday, August 4, 2010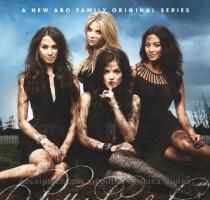 more images
LOS ANGELES (GaeaTimes.com)- "Pretty Little Liars" episode 9 was aired last night on ABC Family as the audience enjoyed their most entertaining hours watching their favorite teen mystery drama on television. The last episode was subtitled as "The Perfect Storm". Last night's episode attracted millions of audience as they were riveted to their seats watching their most popular teenage drama with curiosity and anticipation because of its its superb plot and wonderful storyline.
"Pretty Little Liars" episode 9 mainly concerns with how the girls deal with "The Perfect Storm" inside the school premises and also in their lives. The girls get trapped in the school during a bad storm and their SAT test gets postponed by the school. The story takes its own turn when a huge secret gets out of one of the main girl's life. With Detective Wilden around, lot of things that happen in the school which the girls could not stop even if they wanted to. Hanna generates feelings for Lucas but she is afraid to let her feelings disclosed as she is not completely sure of him.
"Pretty Little Liars" episode 9 had other subplots as well, the audience saw Emily retrospecting her past and her relationship with Alison. The mysterious "A" is still dominant in their life. Aria accepts date with Noel and Spencer thinks Alex is the right choice for her and ultimately Spencer's mother approves of their relationship. With so many subplots in the story, the audience is left baffled in the end thinking about the letter written by Emily, Toby Cavanaugh, and also Alison's video. The audience is eagerly waiting for the next episode "Keep You Friends Close" where "A"s identity will be revealed.