Pretty Little Liars Episode 7
By Tias, Gaea News Network
Wednesday, July 21, 2010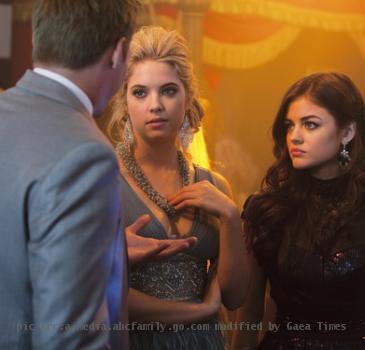 more images
LOS ANGELES (GaeaTimes.com) The latest 'Pretty Little Liars' episode called 'The Homecoming Hangover' unveiled some more mysteries for the audience that was already hanging on to the cliffhanger of episode 6. In episode 7, Toby turned out to be a savior instead of the attacker as he took the injured Emily to the hospital.
In spite of the help to Emily, Toby continues to be the suspect of the other three girls. They try to find out more about him and remain confident about his connection to the death of Alison and the mysterious character of 'A'. In episode 7 of 'Pretty Little Liars', however, 'A' has a somewhat subdued presence. On a more personal front, the girls are seen suffering heartbreaks and having important realizations. Aria seems to have a hard time getting over Mr.Fitz in spite of the teacher dismissing the relationship in the last week's episode. She is seen calling him repeatedly and even breaking into his house for apparently no reason. Spencer on the other hand tries her best to dissolve the vast class difference between her and Alex. She begs him for a date and later agrees to join him in work when he turns out to be too busy with work. She is also seen realizing the reality behind the literally impossible relationship. Things are quickly forgotten as the two dance and swing around in the kitchen. Hanna is seen realizing that there is less chances that Sean will fall in love with her.
ABC's 'Pretty Little Liars' has been one of the most successful teenage dramas in recent times. It revolves around a group of young girls who are trying to fight the shadows of their past and also solve the mysterious death of their friend, Alison.