Pretty Little Liars Episode 7 Highly Anticipated
By Tias, Gaea News Network
Wednesday, July 14, 2010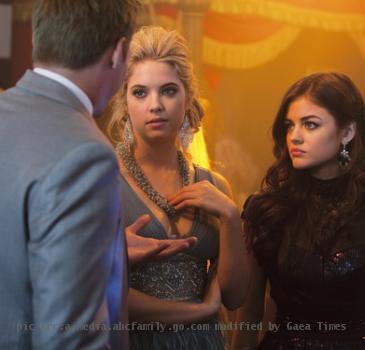 more images
LOS ANGELES (GaeaTimes.com)- ABC's greatest guilty pleasure, the 'Pretty Little Liars' has been called America's greatest guilty pleasure. The show revolves around four girls who are haunted by their past in the form of the mysterious 'A'. In the latest episode 'A' makes his present felt in the form of messages found by the girls in their fortune cookies. Episode 6 of the teenage mystery series was aired on July 13 at 8pm on ABC. As the episode ends on a cliffhanger, episode 7 became a hot search on the web for fans who are hoping to get a sneak peek or some hint at who really dies.
Episode 6 of 'Pretty Little Liars' called 'There's No Place Like Homecoming' focuses on the run up to the homecoming party. As the girls try to get the perfect dates and fight for the homecoming queen's crown, they can feel the presence of 'A' in their midst. The episode focuses on Emily who gets more than bargained for as not only Toby's past relationship with Maya is revealed but also a tattoo that has the date of Alison's disappearance is seen on him. The girls however realize just a little too late the connection between the death of Alison and Toby. They understand the threat to Emily as she is alone in the science lab with Toby. The episode ends with a cliffhanger that keeps the audience dying for the next episode on Tuesday. It is made evident that there is a murder but unclear who the killer or the dead is till it is revealed on episode 7.
Episode 6 of 'Pretty Little Liars' was directed by Mickey Buckley and written by Maya Goldsmith. According to the official website of 'Pretty Little Liars', episode7 will follow up on the developments of the Homecoming party.