Michael Douglas' Ex-wife's Lawsuit Thrown Out of Court
By Avik, Gaea News Network
Tuesday, November 16, 2010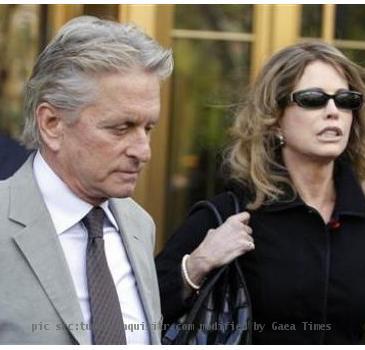 more images
Diandra Luker could'nt pull up with her trick this time as the court didn't accept her case to be valid.
The couple are already divorced in 2000, but still Diandra had demanded 40 per cent of the money Michael earned from his last movie, 'Wall Street: Money Never Sleeps', but Manhattan Supreme Court Judge Matthew Cooper ruled New York was not the correct venue for the action as the couple originally divorced in California.
Michael's lawyer Marilyn Chinitz said,
He's thrilled. This is the right decision. This action should have never been brought in the first place.
Well, Diandra has already benefited $6.3 million from the settlements which constituted films dating before the divorce, but what she claims now is she should receive money from 'Wall Street: Money Never Sleeps' as it has revived the character Gordon Gecko, played by the star in the original flick 'Wall Street' in 1987.
Her lawyer Nancy Chemtob said,
We respectfully disagree with the decision, and intend to appeal. Both parties are residents of New York, and the case should be decided here.
Michael, now lives with wife and co-actress Catherine Zeta Jones and is currently battling throat cancer.