Michael Douglas Starts Cancer Treatment
By Tias, Gaea News Network
Sunday, September 5, 2010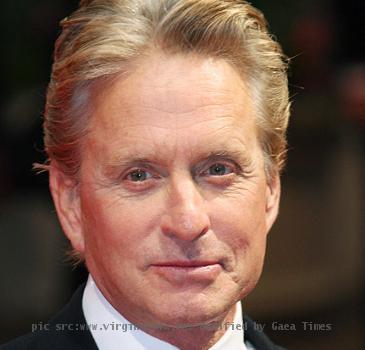 more images
LOS ANGELES (GaeaTimes.com)- Catherine Zeta Jones, wife of established Hollywood actor
Michael Douglas
has opened up to the media about the emotions that the family are going through during the difficult period of Michael Douglas' chemo-therapy. She revealed that she has not been able to accompany the 'Wall Street' star to the New York medical center where is undergoing chemo and radiation treatment for his throat cancer. In a recent statement, the doctors have revealed that Michael Douglas has 80% chance of full recovery from the cancer.
Catherine Zeta Jones told the media that though she has not been able to accompany her husband, their two children, Dylan and Carys have done so. She explained that Michael Douglas sat down the two children and explained that he has cancer now. She added in the emotional interview to a well known magazine that it is difficult for her to see her husband lying motionless and undergoing the treatment. Known for its 'harsh' side-effects, the chemo or radiation therapy can be extremely hard on the human body. Patients usually undergo a number of other health problems like fatigue and nausea due to the treatment.
Catherine Zeta Jones said that it was a difficult time in their lives as Michael Douglas' father was also suffering from bad health. She said that she felt devastated to see her husband fatigued. She added that though he was 258 years older than him, he could tire her out earlier. Earlier this year, Michael Douglas suffered another setback when his son from a previous marriage was arrested for drug possession. The next installment of 'Wall Street', directed by Oliver Stone is all set to release this year.
Filed under:
Celebrity Facts
,
Entertainment
,
Hollywood
,
News and Gossips
,
World
Tags:
California
,
Catherine Zeta Jones
,
Los Angeles
,
Michael Douglas
,
Oliver Stone
,
United States
,
Wall Street