Great Pumpkin Charlie Brown Remains People's Favorite
By Naiwrita Sinha, Gaea News Network
Friday, October 29, 2010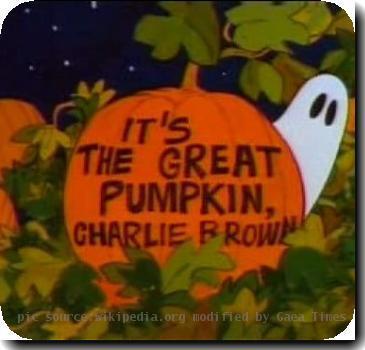 more images
LOS ANGELES (Gaea Times.com) Some films are timeless and "It's Great Pumpkin Charlie Brown" comes in this category. The first Halloween special to be produced and animated by Bill Melendez, this film never goes out of fashion. This year is no exception and among the Halloween specials this year the great pumpkin Charlie Brown will once again bring out the nostalgic feelings associated with it. The show will be aired tonight as a Halloween special on ABC. The animated television special is based on the comic strip "Peanuts" by Charles M. Schulz. A few people are comparing the show with "Scared Shrekless" which was telecast yesterday night on NBC.
Many are referring to the two Halloween special as "Great Pumpkin Charlie Brown vs Scared Shrekless". "Scared Shrekless" is about Shrek waiting excitedly for his favorite Halloween to arrive. However, this time he challenges Donkey and Puss in Boots along with the other characters to a scary story telling contest. A twist comes in the story when they learn that they must spend the night in Lord Farquaad's haunted castle. Though this is an interesting story and something which people will enjoy, many feel that it is no match for the Great Pumpkin Charlie Brown.
"It's Great Pumpkin Charlie Brown" is a classic which cannot be easily substituted. It has retained a special place in the hearts of many since its initial broadcast in 1966 on CBS preempting "My Three Sons". Some feel that "Scared Shrekless" is great but is not a match for the Great Pumpkin Charlie Brown. CBS has re-aired the special through 2000 annually with ABC picking up the rights in 2001.