"Do Dooni Chaar" Movie Review
By Naiwrita Sinha, Gaea News Network
Saturday, October 9, 2010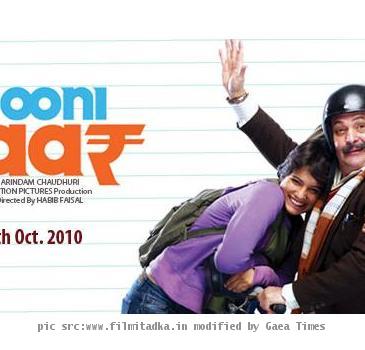 more images
MUMBAI, INDIA (Gaea Times.com)- The heart throb couples from the "70's" are back on screen together in "Do Dooni Chaar". Rishi Kapoor and wife Neetu Singh, once again shared the screen in this middle class melodrama directed by Habib Faisal. The film revolves around a middle class family, whose environment has been properly captured, and the film focuses on that one problem which is common in all normal middle class families. The problem of managing one's expenses with too little a cash in hand. Santosh Duggal (Rishi Kapoor) is a school teacher whose meager income is just enough for them to live on. Kusum Duggal (Neetu Singh) is a housewife, and they have two teenage kids, a boy named Sandeep and a girl named Payal. The film is being appreciated in all quarters, as evident from the reviews.
As with the real life families, the one on screen also knows how to stick together, despite struggling to make their ends meet every month. The film is very well made but the attempts at humor in the second half may not be very convincing to all. Many people though can relate their aspirations with that of Santosh Duggal in "Do Dooni Chaar". The soundtrack of the film is not disappointing either according to the reviews.
Problems for the family begins with the family receiving an invitation from Santosh Duggal's sister to attend a wedding, though she asks them to come in a car or else she would be embarrassed in front of her in laws. This brings a twist in the scenario and the film revolves around Mr. Santosh Duggal getting a car of his own. The chemistry between real life couple Rishi Kapoor and Neetu Singh in "Do Dooni Chaar"is fun to watch, with various reviews singing praises of it.