Family Guy: Then There Were Fewer
By Naiwrita Sinha, Gaea News Network
Monday, September 27, 2010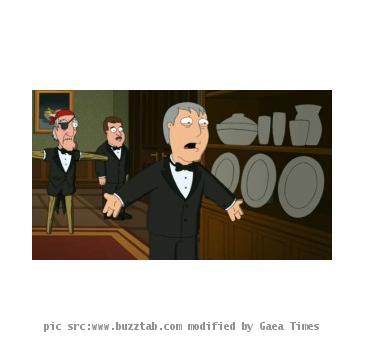 more images
LOS ANGELES (Gaea Times.com)- Season 9 of the hit animated series "Family guy" aired on Sunday 26 September on Fox television. The series is entitled "Then There Were Fewer" and is based on an Agatha Christie novel. The Griffin family has been invited to the mansion of actor James Woods along with Quahog family but things take a different turn when a few hours later dead bodies are discovered. Now it is upto Peter Griffin to solve the mystery when the bridge connecting the mansion collapses when a lightning strikes a tree which in turn breaks the bridge. The people are trapped in the mansion and will now have to solve the crime in order to survive, as no one knows who is gonna be the next victim.
The interesting thing in the episode was that James woods, who invited all of them in the first place feels that all of the guest had wronged him in some manner. He had called them to make amends. The griffin family is rushing around in order to nail the killer. The episode was funny and hilarious, and many are glad that "Family Guy" is back this time entitled "Then There Were Fewer". The animated series is quite popular as is evident from the show coming back for the ninth time.
The killer turned out to be a journalist though one of the first suspects happens to be James Woods himself but when a gun is discovered by the people which had been timed to shoot him he is ruled out. The chaos in the "Family Guy: Then There Were Fewer" episode of people being murdered continuously is shown well enough and very few would have guessed at who the killer was and as it turns out most couldn't.