Sanjay Gupta Once Compared Me To Jennifer Lopez And Buddhdeb Dasgupta Saw Semblance Of Smita Patil In Me. What More Could I Ask For?: Sameera Reddy
By SAMPURN
Friday, July 9, 2010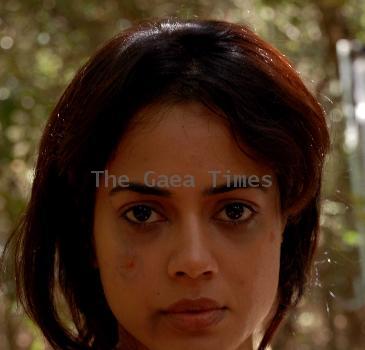 July 9, 2010 (Sampurn Wire): On the eve of the release of her latest film Red Alert, Sameera Reddy tells Jyothi Venkatesh that it was director Buddhdeb Dasgupta who had taught her that as an actress can move out of the typical stereo-typed Bollywood film, which does not offer much scope to actresses most of the time.
When I met her for this interview at The Raheja Classic Club where she had come in her glamorous avatar dressed in a skin hugging black pant and a sexy T shirt, indeed a far cry from the character of the deglamorized Lakshmi that she plays in the film Red Alert starring her in a pivotal role along with stalwarts like Naseeruddin Shah, Ashish Vidyarthi, Seema Biswas, Gulshan Grover, Bhagyashree and last but not the least Sunil Shetty. Sameera Reddy is modest enough to confess that though she does concede that she has rendered a sterling performance as a deglamorized rape victim in Ananth Mahadevan's Red Alert, it is not the best performance in her career.
Sameera continues, "It is one of the best performances because I still feel that Buddhdeb Dasgupta's Kaalpurush is my best role till date as an actress. However, all said and done, I want to keep on learning every day as an actress. To get into the skin of my character, I had to do a lot of research. Ananth Mahadevan made me read a few books including Red Sun-Travels in a Naxalite Country written by Sudeep Chakraborty. I also made it a point to watch a few documentaries on the Naxalite movement, like Running Out of Time directed by Abhijay Karlekar. I was amazed by what I saw. It was disturbing to know that a whole lot of adivasis were displaced from Jharkhand when coal and steel industries came up".
Sameera confesses that enacting the role of the poor girl Lakshmi, who is raped by the cops, was a different experience for her as an actress, because she had to not only sport a different look altogether, but also act without putting on any make up. She had to be deglamorized unlike most of her roles in Bollywood, which needed the actress to be decked up from top to toe. I had to feel the character and hence had to be what you can say bereft of the Bollywood style, Sameera gushes.
Though she admits that the role was different, Sameera concedes that it was not tough. She already had the taste of 'different' film as she had done films like Buddhdeb Dasgupta's Kaalpurush with Mithun Chakraborty and Mira Nair's Migration, a film on Aids. "It was actually director Buddhdeb Dasgupta who had taught me that I, as an actress, can also do a film other than the routine and typical stereo-typed Bollywood films, which do not offer any scope to actresses most of the time", Sameera says without mincing words.
Sameera does not hesitate to give credit to her director Ananth Mahadevan for enabling her to do her act in the film. "It was Ananth Mahadevan who educated me on my character. When I first read the script I was quite pre-occupied with my career in Bollywood. It did not sink in that it was the opportunity for me to do a different role in my career. It was Ananth Mahadevan who encouraged me to sit down to work on this character in Red Alert."
Besides Red Alert, which had its world premiere six months back in Goa at the International Film festival of India, Sameera is now also doing a film in Hindi and Malayalam each. "I have to buck up for yet another hard hitting role in Nagesh Kukunoor's Yeh Hausla in which I have been pitted opposite John Abraham and a Malayalam film called Oru Naal Varum in which Mohanlal is my co-actor. It is actually my debut in Malayalam. I have already made my debut in Bengali with Kaalpurush and have also done a film each in Tamil and Telugu."
In Yeh Hausla, which she says she had signed almost around the same time when she had signed Red Alert, Sameera is playing yet another deglamorized character which did not need her to put on make-up in front of the camera. "I play the role of a Rajasthani woman who is fiery. Though I too am fiery in real life, I am not as fiery as my character in Yeh Hausla who would not even hesitate to dig a sharp gupti (knife) into the stomach of the guy who crosses her path in the film."
Ask Sameera whether she intends taking up more such arty projects which require her to sink in her teeth into her characters and she shoots back, "I do not plan things in life, because I take life as it comes along. This applies to my career too. I am now all set to do a film called Bullet Train for Priyadarshan, where my co-actors will be Ajay Devgn and Sunil Shetty. It was a pleasure working with an actor like Sunil Shetty in Red Alert."
It does not rattle her at all that she has not bagged any award for acting in Hindi films till date. "Sanjay Gupta once compared me to Jennifer Lopez as far as glam quotient is concerned and a filmmaker like Buddhdeb Dasgupta, who cast me in not one but two films – Kaalpurush and Voyeurs had compared me to Smita Patil. What more could I ask for? I think compliments like these acts like a tonic for you more than even the coveted national award. Isn't it?"
The smart and sexy Sameera signs off by stating that the reason that she has survived in the rat race in Bollywood amidst cut throat competition from the time she had made her debut with Maine Dil Tujko Diya till Red Alert is that every year she makes it a point to learn not only about acting, but also about endurance in showbiz.
–Jyothi Venkatesh / Sampurn Wire