Actress Raima Sen launches DVD of The Japanese Wife
By SAMPURN
Wednesday, May 12, 2010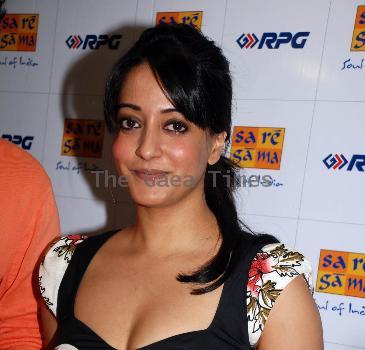 May 12, 2010 (Sampurn Wire):Recently release movie "The Japanese Wife" received a lot of praise and applaud from the audiences and from the critics as well. The story of "The Japanese Wife" which is a simple love story has become a huge hit in West Bengal.
Actress Raima Sen who plays one of the lead roles in the movie, "The Japanese Wife", the role of a young widow who has a lot of inner strength has enacted the role with perfection. She also launched the DVD of the movie. After the launch of the DVD of "The Japanese Wife" the spokesperson of Saregama spoke to the media "The reason why we launched the DVD of "The Japanese Wife" in a short time span is that we wanted to avoid video piracy and also this is movie is so entertaining that the audiences would love to sit at home with their loved ones and watch the movie." During the launch of the DVD actress Raima Sen spoke to the media, "I am very happy to launch the DVD of my movie "The Japanese Wife". Saregama has really done a great job in releasing the movie in the home theatre format. Now the audiences who missed out on watching the movie in cinema theatres can sit at home and enjoy the movie. In West Bengal the movie is still being shown in the theatres. I think the reason why the movie did not work out in Mumbai is because the majority of the population is not familiar with the language of the film".
"The Japanese Wife" is produced by Saregama Films and is directed by Aparna Sen who has directed some the best movies of our times like "36 Chowringhee Lane", "Paroma", "Sati", "Yugaant", "Ek din achanak","Amodani", "Uniche April", "Gaach", "Ghaat", "Titli", "Mr and Mrs Iyer", "14 Park Avenue" etc. The story of the film is a love story between a school teacher from Sundervan Snehamoy (Rahul Bose), and Miyage (Chigusa Takaku) a Japanese woman. They fall in love with each other and they communicate only through the medium of love letters having never met each other. They get married through letters itself and never meet each other even after 17 years of marriage.
-Sampurn Wire