Simha Telugu Movie Full Review, Story, Rating
By Jayita, Gaea News Network
Friday, April 30, 2010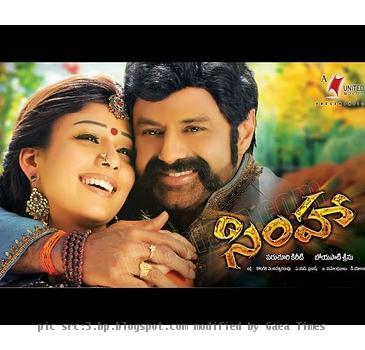 more images
HYDERABAD, INDIA (GaeaTimes.com) — As I have promised to bring you the full review of Simha movie in my previous article, this is a small effort, I've put to stick to my words. As expected Simha movie has rocked the silver screen. Audiences are gleaming with joy after rediscovering Balakrishna back to his form. Though Simha doesn't fall in the extraordinary film category, it surely gives a fresh air to the Telugu movie fans. Yes, credit goes to none other than Boyapati Sreenu, the writer and director of Simha.
Story
The movie features Sriman Narayana (Balakrishna), a college lecturer, who follows strict discipline in his life. He doesn't tolerate injustice and can go far for it. This causes his old grandmother always worrying about him. She tries to prevent her grandson from doing violence, but action comes to Sriman Narayana in natural way. In this process, Janaki (Sneha Ullal) joins his college and falls in love with him. Janaki has a dark past which she couldn't forget. Her groom is the killer of her brother. This made Janaki fled from her house on the very day of her wedding. With a series of event taking places thereafter accompanied by a flashback will lead you to the conclusion that what Janaki has faced is connected to Sriman Narayana too. What's the hell Sriman Narayana has to do with Janaki's past life? Lets keep it secret. To know the rest of the story you have to watch Simha movie.
Performance wise Simha can be rated as 7 out of 10. The cinematography is good, but could be better. Though the script was an average one, screenplay deserves acclamation. Background score is catchy and songs are impressive.
Balakrishna in his double roles won the heart of the audiences. His body language, punch dialogues and fire in eyes enthralled his fans. Sneha Ullal, like her other movies, has a cute factor in her appearance. But her acting lacks expressions. On the other hand, Nayantara looks elegant and graceful in her brief but depth character. Namitha seems to have put up some extra flab, which she needs to take care of. K R Vijaya is good and does justice to her role.
Do you think Simha will be the biggest hit of this year? Will Balakrishna be able to impress his fans? Please share your thought in the comment section below.