Housefull promo releases alongside Karthik Calling Karthik
By SAMPURN
Tuesday, February 23, 2010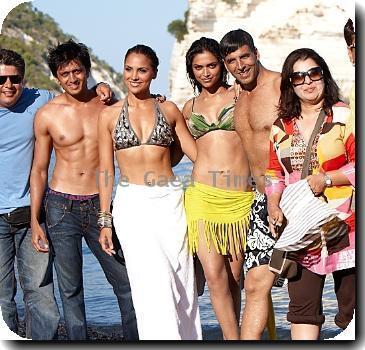 February 23, 2010 (Sampurn Wire): The most awaited promo of the year is finally here this Friday the 26th Feb 2010. Sajid Nadiadwala's 'Housefull' directed by Sajid Khan will have its promo release with the newest release of the week 'Karthik Calling Karthik'.
A romantic comedy entertainer, 'Housefull' is the story of normal people caught in abnormal situations sparked off by a white lie. The film starring Akshay Kumar, Deepika Padukone, Ritesh Deshmukh, Lara Dutta, Jiah Khan and Arjun Rampal talks of the world's unluckiest man trying to find true love to change his luck.
Additionally as coincidence may have it– both Sajid Nadiadwala and Sajid Khan believe the number 9 is lucky for them–since their previous blockbuster together was 'Heyy Babyy' which also added up to the number 9. Similarly 'Housefull', their next venture together adds up to the same which is bound to spell magic at the box office.
Talking about the promo, director Sajid Khan says, "It's a sheer co-incidence but its true 9 is lucky for me. A trailer is meant to excite audiences enough to get them talking about the film. But as a maker you definitely do not want to give away too much of the story. I'm sure the audiences will enjoy the promo."
And since coincidence seems to be following this lucky duo, the trailer cut selected as the final was also the "9th"one.
"Though the earlier cuts were good. Without doubt the 9th was the best," adds Sajid Khan.
Producer Sajid Nadiadwala says, "The number 9 is lucky for Sajid Khan and me. 'Heyy Babyy' was a blockbuster and we are hoping that 'Housefull' will have the same fate."
Sajid Nadiadwala and Sajid Khan's 'Housefull' is here to work its magic this time around, first glimpses of which will be witnessed on the big screen 26th Feb 2010.
-Sampurn Wire