Naomi Campbell vows to keep mum on 'blood diamond' issue
By ANI
Thursday, April 22, 2010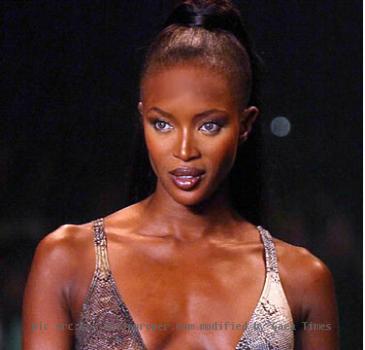 NEW YORK - Naomi Campbell has refused to testify at the war crimes trial of former Liberian strongman Charles Taylor, saying that she would not speak about the huge, uncut "blood diamond" he allegedly gave her in 1997 in South Africa.
The supermodel and the warlord were overnight guests of Nelson Mandela, along with Mia Farrow.
And Farrow has revealed that she learned of the diamond at breakfast.
"Naomi Campbell came down . . . she said during the night some men had knocked on her door and she, half-asleep, had opened the door and it was representatives of President Charles Taylor and that they had given her a huge diamond. And we were like, 'Oh, my gosh,'" the New York Post quoted her as saying.
"Prosecutors say Taylor was in South Africa . . . to buy weapons for the Sierra Leone rebels with blood diamonds and that Mia Farrow's information about Campbell helps tie him to the purchase," said ABC correspondent correspondent Brian Ross.
But Campbell refused to cooperate, and even vowed to keep mum on the issue at a recent Fashion Week appearance to raise money for Haiti.
"I didn't receive a diamond and I'm not going to speak about that," she said.
She then ended the interview by slamming the camera to the floor.
Farrow said: "You don't forget when a girlfriend tells you she was given a huge diamond in the middle of the night . . . There's no doubt in my mind. All I thought was, 'Gosh, what an amazing life Naomi Campbell has. Probably lots of men are always giving her diamonds.' "
She urged Campbell to testify too, saying: "Absolutely, step up and do your part." (ANI)