Ayesha Gilani Supports Sania Mirza
By Arnab, Gaea News Network
Tuesday, April 6, 2010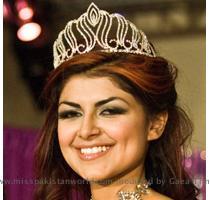 more images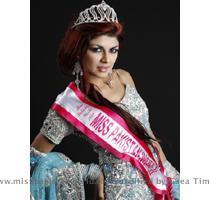 more images
HYDERABAD, INDIA (GaeaTimes.com)- The media attention and controversy created around the upcoming wedding of ace tennis player Sania Mirza and Pakistani Cricketer Shoaib Malik has made the couple uneasy. They are trying to clarify their positions after another woman named Ayesha Siddiqui accused the cricketer of marrying her earlier only to dump later. The cricketer has faced hostile questions from the media over the issue. However, it would be wrong to assume that they do not have anyone to provide solidarity and support. Ayesha Gillani who won the crown of Miss Pakistan last year, has voiced her support for Shoaib Malik and Sania Mirza recently.
Ayesha Gillani said in her statement that she will welcome Sania Mirza into Pakistan. She also expressed her view that the couple hails from the sports community and they match each other. She thinks that they are not much different culturally. Miss Ayesha Gillani is doing a course in English and Administration and she stays in Washington now. She is of the opinion that after the wedding the bride should think about staying in Pakistan and not Dubai as she said in an interview. She came down heavily on those religious hardliners who have slammed Sania Mirza for choosing a person having Pakistani origin.
Ayesha Gillani has said that Sania Mira has done no crime by choosing Shoaib Malik as her spouse. She said that love does not distinguish someone by religion. She also said that the other girl who is claiming to be married to Shoaib Malik should produce credible evidences. With her support, Sania Mirza surely has a reason to smile now.