Chuck Norris Dead? Only In Rumors
By Naiwrita, Gaea News Network
Friday, April 2, 2010
more images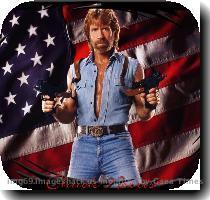 more images
LOS ANGELES (GaeaTimes.com)- Rumors still seem to be circulating in the internet about the death of Chuck Norris. The martial artists turned actor, who just celebrated his 70th birthday only a few days back, is suddenly being rumored to be dead, despite the fact that he is in sound health, and there is no report suggesting that the famous personality is suffering from any sort of infirmity. It is possible that the rumor had been spread as part of some prankster's morbid idea of pulling a trick on April Fool's Day, but it is also possible that it was simply one of those hoaxes that are found to be floating in the internet almost every other day.
However, this time, the hoax did not seem innovative enough, and it is obvious that not much effort had been put into the creation of the rumor. There seems to be some contention about the actual content of the rumors as well. While some of the sources claim that the rumors that began to circulate highlighted that Chuck Norris is dead, still others claimed that the rumors spoke of the martial artist being paralyzed for life.
Well conceived or not, there is no doubt that the Chuck Norris dead rumors did catch on like wildfire, and people still seem to be searching for the truth behind these reports, even a day after the rumors began to circulate, and despite the fact that numerous assurances had been sent out denouncing the authenticity of these reports. However, to put the matter at rest, the Chuck Norris dead rumors are just that, rumors, and there is no truth in it.