Jenny Lewis Dates Jake Gyllenhaal Again
By Tias, Gaea News Network
Tuesday, January 18, 2011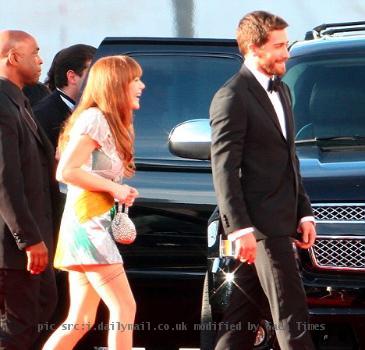 more images
LOS ANGELES (GaeaTimes.com)- Time is not going the way, singer Taylor Swift wants it to go. Her ex-boyfriend, Jake Gyllenhaal was all smiles as he appeared on the Red carpet at the Golden Globe Awards, held in Beverly Hills last night. He was smiling for a different reason. He is dating one of his ex-girlfriends and its not Taylor Swift. Jenny Lewis, the former actress accompanied the actor to the Golden Globe Awards on Sunday thereby raising many questions among the gossip mongers.
Jenny Lewis and Jake Gyllenhaal started dating each other back in 2001. Although they had been in a relationship, they fell apart for some reasons. However, they continued to remain friends. She is one of the actor's famous girlfriends. Jake Gyllenhaal has also dated actresses like Reese Witherspoon and Kirsten Dunst. Taylor Swift had also remained his girlfriend for two months. It seemed as if Jake Gyllenhaal is not much affected with the breakup he had with the 21-year-old singer. The actor arrived at the Red Carpet of the star-studded awards ceremony with Jenny Lewis by his side. This was something unexpected from the actor, who was known to be single after he broke up with Taylor Swift. To keep up to that image in front of all his fan, he made a deliberate effort to pose alone for the camera on the Red Carpet. Even then he was caught by his fans who found Jenny Lewis sitting b his side all throughout the live broadcast of the function.
That Jenny Lewis accompanied the actor was something for which the people were not ready. Post his break with the singer, he was expected to appear at the ceremony either all by himself or with any of his family members. His appearance with Jenny Lewis made him a fodder for the media as well as for the gossip blogs.