Reporter Points Finger At Simon Monjack
By Naiwrita Sinha, Gaea News Network
Wednesday, January 12, 2011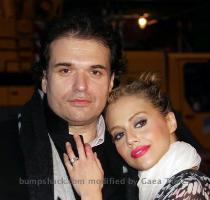 LOS ANGELES (GaeaTimes.com)- Simon Monjack, the widower of actress Brittany Murphy who died last year in May too has not been spared by a reporter who has unleashed some new facts behind the death of the actress. The results, however, has not been taken too kindly by the mother of the actress for she claims that they are baseless. Alex Ben Block who continued his searches for several months even after the police listed out the possible causes of the death of the "Clueless" star recently said that there are many more things responsible for her death.
Alex Ben Block, a reporter of a famous weekly entertainment magazine is also a friend of the Murphys which is the reason as to why Sharon Murphy is all the more fumed. The reasons that the reporter is citing indirectly points fingers towards the family members of the deceased actress who is said to have died of pneumonia, anemia and a toxic mixture of prescription drugs. Alex Ben Block said that until her last breath Brittany Murphy kept on worrying of what would happen to her mother and screen writer husband Simon Monjack. The reporter said that his investigations has revealed that the actress had a one-fourth of the standard red blood count at the time of her death.
Alex Ben Block gave a severe shock to the actress's mother when he added that husband Simon Monjack by creating unfavorable circumstances around the actress was also responsible for her death. Sharon Murphy claims that she is extremely hurt by the statements that Alex Ben Block is issuing out publicly for they are in a way claiming that Brittany Murphy's family members had not been able to take care of her at the time of her death.
Filed under:
Celebrity Facts
,
Entertainment
,
Hollywood
,
Media
,
News and Gossips
,
World
Tags:
Alex Ben Block
,
Brittany Murphy
,
California
,
Los Angeles
,
Simon monjack
,
United States