Robert Pattinson And Kristen Stewart Married On-Screen
By Madhusmita, Gaea News Network
Sunday, November 21, 2010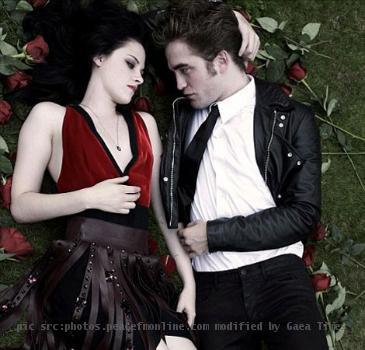 more images
LOS ANGELES (GaeaTimes.com)- The media is presently abuzz with the news that the Hollywood heartthrob Robert Pattinson and his girlfriend sizzling Kristen Stewart are married! However, the news is half-true as the real life couple married on-screen for their upcoming much-anticipated movie "Breaking Dawn". A reputed celebrity and lifestyle magazine's issue showed the hottest couple's picture with a tagline that read "Just Married". The misleading magazine made all the fans and media speculate about their marriage.
A reputed media source reported that Robert Pattinson and Kristen Stewart married on-screen for their movie "Breaking Dawn" which will hit theaters in 2011. An insider of the film "Breaking Dawn" says that the hottest on and off-screen couple who plays the role of Edward (Robert Pattinson) and Bella (Kristen Stewart) finally get married in the movie and they will even have a child together. However, the child, Renesmee is going to be half human, half vampire. Some gossip sites reported earlier this week that the couple, who is in Brazil recently, are enjoying their honeymoon. Speaking about the on-screen marriage, a source close to the movie said that Robert Pattinson and Kristen Stewart were in their own and they were busy rehearsing and "running the scene". The couple looked comfortable with each other and even when the "cameras were off".
Apart from the misleading "Just Married" headline in the cover story, the photos of Robert Pattinson and Kristen Stewart in Brazil added fuel to the gossip circuit. In the photograph, Kristen Stewart looks steamy in her white retro-looking bikini and Robert Pattinson goes shirtless and dotes on his lady love. The couple sizzled on-screen while they filmed their character's romantic honeymoon under waterfall as they were shooting their characters' romantic honeymoon in Brazil for "Breaking Dawn".