Shahid gets surprise party on 29th birthday (Film Snippets)
By IANS
Thursday, February 25, 2010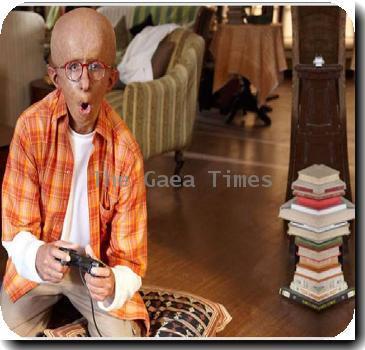 NEW DELHI - Bollywood star Shahid Kapoor, who turned 29 Thursday, was given a surprise birthday party by his family and friends.
"I was given a surprise birthday party and I sure was surprised. Even dad and family were in on it. Wow! It's actually my first surprise birthday party," Shahid posted on micro-blogging site Twitter.
The actor was wished by a number of celebrities, including Karan Johar and Farah Ali Khan.
He has thanked everyone for their wishes.
"Thank you all from the bottom of my heart for all the birthday wishes. Love you all," he added.
Shahid's friend and co-star of his last release "Chance Pe Dance", Genelia D'Souza, too attended the party.
-*-
Vivek learns to play drums for 'Prince'
After learning how to strum a guitar for his film "Omkara", Bollywood star Vivek Oberoi has now learnt how to play the drums for his forthcoming film "Prince".
For a sequence in the song "Oh mere khuda", Vivek was to be shown playing the drums and he wanted it to look authentic. After discussing this with his producer Kumar Taurani, Vivek got a a drum instructor on the sets, said a source from the unit.
"It took a few days of training at lunch time for Vivek to get it right," said the source.
"Prince", releasing March 26, is a fast paced slick action thriller. It is about a savvy thief who is the most wanted man in the country.
-*-
No competition with 'Teen Patti', says KCK producer
"Teen Patti" and "Kartik Calling Karthik" - two awaited movies of the year are releasing on the same day, but Ritesh Sidhwani, the producer of "Karthik Calling Karthik", doesn't fear competition.
"We have no competition with 'Teen Patti'. We have only 52 Fridays in a year and with the Indian Premiere League (IPL) and other events that go on in a year, there are only a certain number of weeks that are good for a film's release," said Sidhwani.
The producer also stressed on the strategy to make a film exciting enough to enthuse the viewer to come and watch it at the theatre.
"You have multiple films releasing on the same day, so one needs to create some kind of a demand and mystery about your film. If you manage to convince the audience that this is something different, you need not worry about any competition," he said.
While "Teen Patti" stars Amitabh Bachchan as a mathematician, Farhan Akhtar plays the role of an introvert in "Karthik Calling Karthik".