RED FM celebrates the spirit of Independence
By Bureau News, Gaea News Network
Sunday, May 3, 2009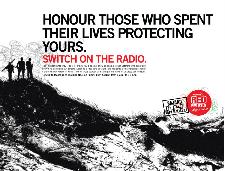 Where the mind is without fear and the head is held high;
Where knowledge is free;
Where the world has not been broken up into fragments by narrow domestic wall;
Into that heaven of freedom, my father, let my country awake
Mumbai, 13 August, 2008: With Independence Day around the corner and the amazing feat achieved by ace shooter Abhinav Bindra at the Beijing Olympics, the spirit of patriotism and pride for our nation is at an all time high… Amongst all this nationalistic euphoria, there exists a group of people who have worked hard and made innumerable sacrifices to protect India's independence. They are the members of the Indian Armed Forces. It's our responsibility as citizens to acknowledge them on the occasion of India's Independence Day, for the true heroes that they are…
As part of Red FM's endeavor to salute these brave hearts, Red FM has organized a very special program on the 15th of August. RED FM's RJ Malishka and her team will be in Pune with war veterans who have suffered injuries while defending our country. The Independence Day the Morning No.1 team will visit the Paraplegic Rehab Centre of the Army Base in Pune and host a radio show from there which will be broadcast to listeners in Mumbai, Delhi and Kolkata.
In this special show, Red FM will talk to the brave soldiers who have suffered injuries during wartime or peace time defending our borders. The show would pertain to their acts of bravery, the drive and the spirit that made them do so, their expectations from their fellow countrymen and will also touch upon the lighter sides of their lives like their favorite songs, stars etc.
Commenting on the initiative, Lt. Col. Jyoti of the Indian Armed Forces said, "These people don't need sympathy, they need opportunity to go ahead in life. They need support from the people of this country in getting well paid and respectable jobs. We are happy that an FM station from Bombay; RED FM is coming to highlight all this."
When asked about the state of mind of these men, who have served in many wars and are now forced to come to terms with their present condition, he has this to say, "The men feel on top of the world…they have won multiple awards including 3 Golds, 7 Silvers and 3 Bronzes for various sports for the disabled at the Far East and South Pacific Games. They have participated in competitive sports in various countries such as Hong Kong, Japan & Beijing. Their spirit is undying, but they deserve the opportunity to be able to support themselves and their families."
Abraham Thomas, COO, RED FM, says, "RED FM is known for its endeavor to always bring to light things that need attention under its initiative, Bajaao for a Cause. On the occasion of Independence Day, Red FM salutes the spirit of the war heroes who have sacrificed all to defend our borders."
Besides this, in an on-ground initiative in Mumbai, Red FM will be joining hands with High Street Phoenix for a special activity titled 'Ribbons of life' which is in association with SBI (Associate Partner), Film Division (Knowledge Partner) and Mani Bhavan (Knowledge Partner). The purpose of this activity is to create an emotional bond and unity amongst Indians. A ribbon symbolizing unity can be bought for Re. 1 by people and tied on a special stand for this purpose. The money collected through this activity will be donated to the NGO Lights of Life, in support of education of underprivileged children.
The event will also re-live the high points of Indian history by showcasing Late Pt. Jawaharlal Nehru's renowned speech "Tryst with Destiny" on the Led Screen at High Street Phoenix & a special display on the life of Mahatma Gandhi arranged by the Mani Bhavan Gandhi Sangrahalaya.
Join RED FM on 15th August to salute the spirit of our war heroes on Independence Day!!
Jai Hind!
- SAMPURN