Ted Williams' Golden Voice Recognized
By Naiwrita Sinha, Gaea News Network
Thursday, January 6, 2011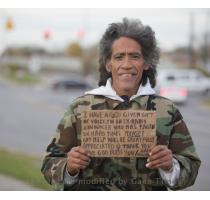 OHIO (GaeaTimes.com)- It seems like that with the new year it is once again a new beginning for
Ted Williams
. The 53 year old man who until two days back lived in the streets is no more homeless. In addition to that he has bagged a prestigious job with the Cleveland Cavaliers. The man who displayed a sign board in his hands where he claimed that he had God's gift of voice seized the attention of media who portrayed his story and helped him in coming back to a normal life.
It has been found that Ted Williams was a former radio announcer who had lost his job in the course of his addiction for drugs and alcohol, The man who is a father to nine children lost everything out to his severe addiction and having lost his family ended up on the streets. The man dwelling on the streets of Columbus held a signboard in his hands where he boasted of his voice that he admitted as completely God-gifted. He would make a living by asserting that he would only talk to someone when they would give him a dollar. The newspaper who spotted him and showed his story made him a big hit over the Internet. People witnessed his story flooded all through the net.
The Cleveland Cavaliers after hearing his voice immediately decided to rope in Ted Williams as their announcer. It is also being heard that Ted Williams's name is also being considered for NFL Films and other commercial announcement offers. The man who was a vagabond until two days back was seen on Wednesday afternoon trying to gather vital documents for identification at an Ohio courthouse.