Albertina Walker Died On Friday At 81
By Naiwrita Sinha, Gaea News Network
Saturday, October 9, 2010
more images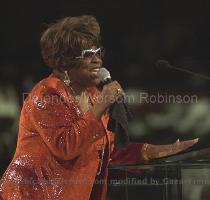 more images
CHICAGO (Gaea Times.com) - Albertina Walker died at the age of 81 on Friday in Chicago. She had been suffering from emphysema and her death is being attributed to respiratory problems. The "Queen of Gospel", had a long and successful career in music, which she did with an intention of spreading the Lord's message among her fans. She said in 1998, " I wanted to stand up before audiences and and deliver the message, win souls for Christ. I wanted to touch dying men and slipping women". She shot to fame with her group "Caravans" that was formed by her in 1951. The group gave numerous hits in the 1950's and 1960's and shaped the career of James Cleveland, Bessie Griffin, Shirley Caesar, and many others. Her discovery of many artists gave her the nickname "Star maker".
Albertina Walker also performed as a solo artist with success from the late 1960's. Her first solo project "Put a little love in your heart" was recorded in 1975. Her long list of hits include, "Please be patient with me", "I can go to God in prayer", The best is yet to come", "Impossible dream" and "Joy will come". Albertina Walker also recorded a reunion album with her group back in 2006, titled "Paved the way". Though she has died, the legacy which she has left behind in the world of music is immortal.
Albertina Walker said in 2004 that "the lord lets me sing, the only time I'll stop is when the Lord says". She did indeed kept her promise and sang his praises as long as she lived. The Grammy award winner, perhaps would have delivered more of her beautiful songs, had she not died.