Robin Williams invites Kevin Rudd to New York strip club!
By ANI
Friday, April 2, 2010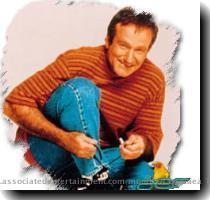 more images
MELBOURNE - Comedian Robin Williams promised to take Australian Prime Minister Kevin Rudd to a strip club in New York while he laughingly apologized over his 'redneck' comment on Australians.
The actor had received flak from the leader after he branded Aussies "English rednecks" on US TV.
Rudd had said: "Robin Williams should go and spend a bit of time in Alabama before he frames comments about anyone being particularly redneck."
However, Williams apologized for the comments in a lighthearted tone.
"Mr Rudd, I apologise. I would like to modify my terminology and use the term 'English good old boys' instead," News.com.au quoted him as saying on Fox FM's Hamish and Andy show.
He requested the premier to let him visit the country again, offering to send him transcripts of any future material he planned to use that mentioned Australia.
And referring to past details of Rudd visiting a New York strip club, Williams added: "If not, I'd love to go to a strip club with you in New York."
He added he was shocked the Prime Minister had been offended.
He said: "The bottom line is I said that line on stage in Sydney and they didn't have a problem.
"Every time I've been in Australia it's been wonderful. I love it down there."
He clarified that his comments were an interpretation of Aussie accents, which combined the rounded English and drawling American sounds. (ANI)