Shabana and Boman are buddies. In fact she sends him SMS messages in Parsi.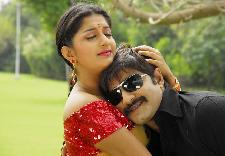 Srikant and Meera Jasmine are playing the lead with Sada in a key role for A Aa E Ee (Athadu, Aame, Inthalo Eeme) directed by Srinivasa Reddy and produced by Boddam Ashok Yadav under the banner of Sri Kalpana Arts, and it is all set for release very soon.
WASHINGTON - Musical legend Carol Channing has given Johnny Depp her approval to portray her in a film.
ADELAIDE - The British press is apparently not too happy with Aussie supermodel Elle Macpherson's knees.
NEW DELHI - Boman Irani has had his pick of roles and worked with successful directors like Yash Chopra, Subhash Ghai and Rajkumar Hirani. On the actor's wish list now are two directors whose films are ready for release — Vishal Bharadwaj and Imtiaz Ali.
MUMBAI - Having been designated a style icon, Kareena Kapoor now intends to go on a long shopping binge in various fashion capitals and also cut her hair.
LONDON - Michael Jackson's plastic surgeon has blamed the pop legend's doctors for giving him heavy doses of drugs which led to his tragic death.
NEW DELHI - From two flowers bobbing together to lip-locking, Hindi films have surely come of age. Actors are shedding inhibitions to spice up the silver screen and not too many people are raising their eyebrows.
Capsule reviews of films opening this week:
NEW DELHI - Amol Gupte has dismissed rumours that Salman Khan will star in his directorial venture "Sapno Ko Ginte Ginte". The scriptwriter-director-actor says he is yet to approach an actor for the main lead.
LONDON - He might be battling cancer, but Patrick Swayze has now been donning a new healthier look since he was last clicked in April this year.
LONDON - Actress Gwyneth Paltrow is reportedly fuming after seeing the promo pics of her new film Iron Man 2 which mainly features her co-star Scarlett Johansson.
BANGALORE - Punjabi girl Pooja Gandhi, who is one of the leading actresses in the south Indian film industry, is courting controversy for giving importance to Kannada movie "Minugu" over "Iniya" due to non-payment. But she has rubbished the reports calling them baseless.
LONDON - Pop legend Michael Jackson's siblings are convinced that he was murdered. While sister La Toya says she knows the group who "killed" her superstar sibling, brother Tito claims that Jacko's personal doctor is prominent among the list of suspects
MUMBAI - She is one of the reigning stars in Bollywood, but Priyanka Chopra says she was a very bad actress when she debuted with "Andaaz" six years ago. While the former Miss World has set high goals for herself and is experimenting with roles like never before, she is also clear about what she is looking for in her 'Mr. Right'.
NEW DELHI - He became popular right after his hit debut, but his last film "Kidnap" didn't do him much good. Now Bollywood's latest heartthrob Imran Khan is hoping to hit the bull's eye with the edge-of-the-seat thriller "Luck", which releases Friday.
MUMBAI - Too much competition has taken away the humanitarian aspect from schoolchildren, who seem to be lost in the race of mathematical calculations and report cards, Bollywood actor Aamir Khan said Saturday as he participated in an interactive session with US Secretary of State Hillary Clinton at the 140-year-old St. Xaviers' College for an interactive session here Saturday.
WASHINGTON - Debbie Gibson, the ultimate teen pop princess of the 1980's, has revealed how she used to be preyed on as a teenager by men much older than her.
WASHINGTON - Irish singer Bob Geldof's daughter Pixie has been dropped by her modeling agency. Select Model Management refused to renew her contract, which was first signed when she was just 16 years old, Contactmusic reports.
NEW DELHI - They have given a series of hits together like "Aankhen", "Raja Babu" and "Partner" and they have teamed up yet again to entertain audiences with "Do Knot Disturb". Comedy King David Dhawan says he shares a great camaraderie with funny man Govinda and that they are lucky for each other.
Reaction to the death of Walter Cronkite:
NEW YORK — Walter Cronkite didn't just live the life of an anchorman. He invented and embodied it.
NEW YORK — Talk about frenemies. Now that reality TV star Ruby Gettinger is less than 350 pounds (from her highest weight of 716), some so-called friends have told her she doesn't need to lose any more weight.
WASHINGTON - Michael Jackson's ex-wife Debbie Rowe is suing a woman who claims she sent her emails saying she was not interested in regaining custody of her children with the late singer.
LONDON - British girl band Girls Aloud has dismissed rumors of split.
Singer Sarah Harding's recent comments that she would take a break from singing to focus on her acting had been the source of speculation that the band was fast disintegrating.
NEW DELHI - The traditional sari is making a stylish comeback in the wardrobes of young women in cities, with corporate honchos, politicians and actresses inspiring the new generation to drape it not only as evening wear but also to office.
NEW YORK — There could be a new king emerging in late-night television.
LOS ANGELES — Talk about keeping things real.
NEW YORK — Television comedy is Tina Fey's world these days. Is there room for anybody else?
The 22 Emmy nominations for "30 Rock" was a record for a comedy series, a feat aided by the fact that a show can be nominated multiple times in a category that honors single episodes.
LOS ANGELES — Tina Fey's urbane sitcom "30 Rock" received a record 22 Emmy Award nominations Thursday, while the 1960s retro series "Mad Men" led the drama pack with 16 bids.