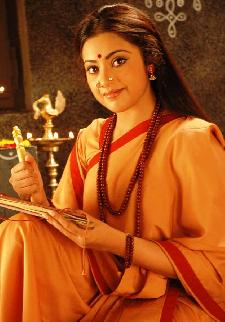 Shooting of 'Vengamamba' with Meena and Saikiran in the lead roles was launched at Annapurna Studios in Hyderabad recently. DVS Raju gave the clap, while Ramesh Prasad switched on the camera for the muhurat shot picturised on the lead artistes. Speaking on the occasion, Saikiran says, 'I am portraying the role of Lord Venkateswara. I believe that it would remain a memorable role and I can proudly say that I played this prestigious character in my career.' Meena says, 'I made my debut as heroine through the same banner for 'Seetaramaiahgari Manavaralu'. I feel that I am fortunate to do another role under the same banner now.' Director Vijayabhaskar says, 'Matrusri Vengamamba earned a good name as a writer and a devotee of Lord Venkateswara. Tasteful producer Doraswamy Raju is producing the film with her story.' Producer says, 'We are planning schedules in March, April and May and they would be taken up in Hyderabad, Tirupati and their surrounding areas. We are specially erecting the Tirumala temple set exclusively for the purpose.' Bhumana Subrahmanya Reddy, KJ Krishnamurthy, Vedavyasa, Saratbabu, Sivaparvathi, Krishnaveni and others participated. Camera is by PRK Raju, music is by MM Keeravani, lyrics are by Annamayya, Vengamamba, Veturi and Vedavyasa, while editing is by Kotagiri Venkateswara Rao.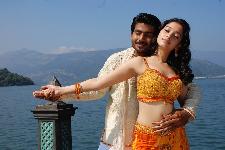 Ananda Thandavam, directed by AR Gandhi Krishna and produced by Oscar Ravichandran with Tamanna and debutant hero Siddhartha in the lead is being released through SVR Media in the State. The producer is making efforts to release the film in Telugu and Tamil languages simultaneously. Speaking to the media Sobharani of SVR Media says, 'We are making efforts to release the film on April 10. The post-production work is in final stages. Presently final mixing works are progressing.' Rukmini is playing another heroine. Music is by GV Prakash Kumar, camera is by Jeeva Shankar, art is by Thota Tarani, dialogues are by Thota Tarani, editing is by VT Vijayan, while D Suresh is the co-producer.
Directed by Ram Kumar of 'Tinnama Padukunnama Tellarinda'-fame, and produced by Y Alex of 'Khaki Chokka and Ashoka Chakram'-fame, 'Oka Ammayi Oka Abbayi' (Out of calling area) had Krishna in a key role. Viswas is making his debut as hero through this movie, while Rupa Kaur and Lahari are playing the heroines. Varikuppala Yadagiri scored tunes for the flick. The audio of the film was launched at an impressive function held at Prasad Labs. A Ranesh Prasad of Prasad Labs released the audiocassettes while YS Madanmohan Reddy, brother of Chief Minister YS Rajasekhar Reddy, unveiled the audio CDs. Speaking on the occasion the producer says, 'I have produced many action and mass films in my 15-year career. However, for the first time, I brought out a beautiful love story to attract class audiences.' The director says, 'It is a love story with suspense in its backdrop.' Aditya Music is marketing the audio.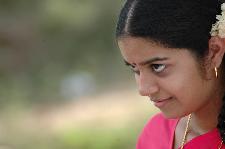 The hit Tamil film 'Subrahmanyapuram is now being dubbed into Telugu and it has been titled as 'Ananthapuram 1980'. The Telugu version is being produced by M Ranganath on the Simhapuri Talkies banner. Colours Swathi is the heroine in the revenge drama. Sasi Kumar is the director. Ananthapurm 1980 is expected to hit the screens in April.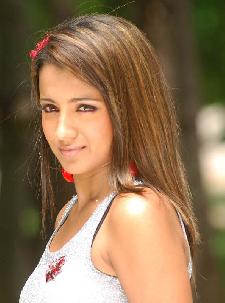 It is reliably learnt that Venkatesh would involve in the shooting of 'Eenadu' with Kamal Hassan in the lead role. It is worth mentioning here that Kamal Hassan himself is producing the film, which is the remake of a successful Bollywood movie 'A Wednesday'. After 'Eenadu', another film is in the offing for Venkatesh under the direction of Sreenu Vaitla. Sources in the film industry say that Trisha was roped in as heroine opposite Venkatesh in Sreenu Vaitla's movie."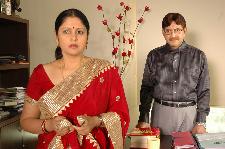 The Jagapatibabu-Meera Jasmine starrer 'Bangarubabu' directed by Jonnalagadda Srinivasa Rao and produced by K Ramakrishna Prasad on the banner of Sowbhagya Media Pvt Ltd is all set for release on May 1. The speciality of the film is that senior-most director Dasari Narayana Rao penned the story and screenplay. Addressing the media, the producer says, 'It is a film that could be watched by the entire family by sitting together. We are planning to release the film with 35 prints across the State through Siri Media.' Director says, 'We brought out the film with a fantastic family drama penned by Dasari Narayana Rao. Especially, he highlighted the relationship between brothers in an attractive manner. Our hero Jagapatibabu would appear in a handsome family role and in fact, that was the way his fans in general and the women in particular want to watch him. It is not just the money, but the family and human relations are important is the message we are going to give through this movie. We are sure that the film would also earn a good name to Sashank and Sonu Sood. MM Srilekha scored melodious tunes for the movie.'
'Neramu-Siksha' audio launched