Keith Olbermann Resigns From MSNBC
By Reema, Gaea News Network
Saturday, January 22, 2011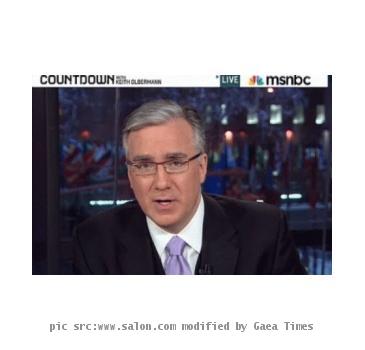 LOS ANGELES (GaeaTimes.com)- In November 2010, Keith Olbermann was briefly suspended by MSNBC, because the former made political donation to three political leaders, namely Jack Conway, Raul Grijalva and Gabrielle Giffords, during their campaign for the congressional election. According to the rules of the channel no employee can be overtly politically skewed and hence, Keith Olbermann was briefly suspended by the channel. However, at that time no one knew that he would finally be dismissed by the channel after just two months, bringing an end to the eight year long contract between the channel and its most high rated anchor.
The news of his stepping down came as a sudden bolt from the blue, when Keith Olbermann announced about it, in the popular show "Countdown with Keith Olbermann". He announced that this would be his last edition. Many people were taken aback, as all these days, neither the channel, nor the person concerned, gave any clue about his sudden retirement. However, sources say that his dismissal from the channel was not completely his own decision as according to sources, Keith Olbermann, along with many other people, was equally shocked to hear that this would be his last edition in the show, that is watched by more than 1 million viewers. This news was later confirmed by the channel too.
Keith Olbermann thanked all the audiences for loving him so much for the last eight years. Apart from the viewers, he also thanked the crew members and his other co-workers. However, he did not thank the channel or any of its elite authorities of MSNBC. While bidding adieu, his statements portrayed his dissatisfaction for the channel. No one knows, why all of a sudden the channel and Keith Olbermann, decided to split with each other, as none of them commented to clarify the matter.
Filed under:
Celebrity Facts
,
Celebrity Wisdom
,
Entertainment
,
News and Gossips
,
TV Previews and Reviews
,
TV Show Synopsis
,
Television
,
World
Tags:
California
,
Countdown with Keith Olbermann
,
Jack Conway
,
Keith Olbermann
,
Los Angeles
,
MSNBC
,
Raul Grijalva
,
United States