Critics' Choice Awards 2011 Highlights "Inception" And "The Social Network"
By Reema, Gaea News Network
Saturday, January 15, 2011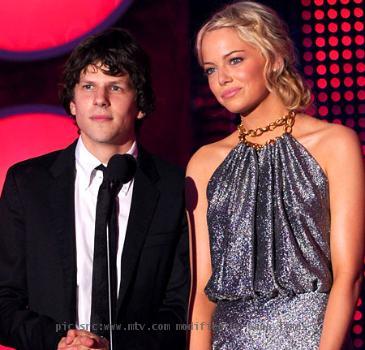 more images
LOS ANGELES (GaeaTimes.com)- Critics' Choice Awards 2011 was, as expected, an one of a kind event and perhaps the best way to boost up the spirit of yet another year to be filled with breath-taking block busters. However, one cannot deny that the three films that literally ruled the award ceremony were "Inception", "The Social Network" and "The Fighter". However, getting ruled by these three films was not at all unpredictable, provided the kind of critical acclaim and box office success the flicks have commanded.
"The Social Network" won the Best Picture Award, The Best Director Award, The Best Score Award and the Best Adapted Screen Play Award. Bagging four awards at one go, was an achievement indeed. 27-year-old actor of the film, Jesse Eisenberg said that he is rather overwhelmed with the kind of response the film got at the Critics' Choice Awards 2011 as well as from the audiences. He also added that none of the cast and crew members had ever anticipated the social and cultural impact the film could have made. To him, it was like the most confusing thing, to be part of such a "wonderfully illustrious group". On the other hand, the film "Inception" bagged the Best Cinematography award, the Best Art Director Award, Best Editing Award, Best Visual Effect Award, Best Sound, Best Action Movie Award.
Critics' Choice Awards 2011 gave the Best Actor Award to Colin Firth for "The King's Speech". The actor jokingly said that he would wear the award round his neck as that would give him magical power. On the other hand, Natalie Portman, who won the Best Actress Award for "Black Swan" thanked her director Darren Aronofsky and said that he made her look skinny. At the same time, she also introduced her fiance, Benjamin Millipied, with whom she is expecting her first baby.
Filed under:
Art and Culture
,
Celebrity Facts
,
Celebrity Wisdom
,
Entertainment
,
Hollywood
,
News and Gossips
,
Page 3 Events and Parties
,
Previews and Reviews
,
World
Tags:
Black Swan
,
California
,
Colin Firth
,
Critics' Choice Awards 2011
,
Inception
,
Jesse Eisenberg
,
Los Angeles
,
Natalie Portman
,
The Social Network
,
United States