Hindi Movies Released In 2010: Hits And Misses
By Arnab Ghosh, Gaea News Network
Sunday, January 9, 2011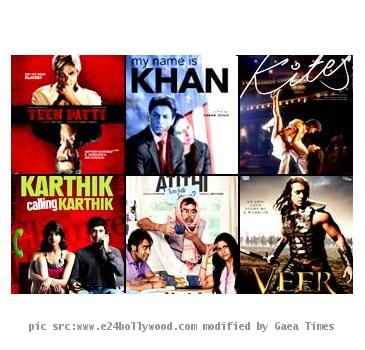 more images
MUMBAI, INDIA (GaeaTimes.com)- 2010 proved to be an elusive year for the majority of Bollywood movie makers and the hits and misses indicated the changing tastes of the Indian movie viewers. Interestingly, a number of big budget films starring some of the biggest actors of Bollywood proved to be total disasters at the box office and the loss of the producers ran in crores. On the other hand, first time directors with films made on shoe string budget tasted success and some films managed to win both commercial success as well as critical acclaim. The year started on a bad note with two much hyped movies 'Pyaar Impossible!' and 'Dulha Mil Gaya' biting the dust. However, the indie flavored 'Ishqiya' directed by Abhishek Chaubhey proved to be the dark horse and gave Vidya Balan the mileage to establish her acting credentials. Among other Hindi movies released in 2010 'My Name Is Khan' deserves a mention. The movie did well commercially because of the Kajol-Shah Rukh Khan magic but it did not set any new record as such.
Farhan Akhtar proved his acting skills in the psychological drama 'Karthik Calling Karthik' and it was among the notable Hindi movies released in 2010. One surprise hit was the urban comedy 'Atithi Tum Kab Jaoge?' which showed talented actress Konkona Sensharma in a new light. The small scale wonder 'Love Sex Aur Dhokha' also did reasonably well proving that the Indian viewers are becoming more matured with time.
Among the most notable disastrous Hindi movies released in 2010, 'Kites 'and 'Raavan' deserve mention. The former failed miserably despite having smoking hot Hrithik Roshan and Mexican actress Barbara Mori. The Mani Ratnam directed 'Raavan' failed to repeat the success of 'Guru' despite having the same lead actors.