Mandira Bedi's Vogue Snap, Goes Topless
By Reema, Gaea News Network
Wednesday, January 5, 2011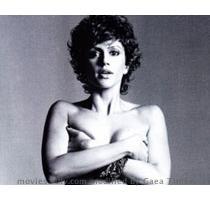 more images
MUMBAI, INDIA (GaeaTimes.com)- Perhaps Mandira Bedi really regrets her boring career, all through out her youth. Staring with the popular TV serial "Shanti", where she projected herself as a dignified traditionally dressed journalist, she did not quite get a chance to flaunt her shapely body back then. However, since she is heading towards forty now, it seems like she wants to do everything that she missed in her 20s. One of them of course posing topless, and recently, the not so shapely lady in her late 30s, posed topless for Vogue.
In the latest issue of Vogue magazine, she wears a short skirt. However, that is not worth noticing. What the old men would probably like, is that she is wearing nothing on top of the skirt, and simply covers her assets with her hands. She told to a reputed source that she does not like to wear short clothes and admires only those, which exposes her shoulder and her back. However, people still wonder, in that case, why was not she wearing them in the Vogue photo shoot? In the magazine, Mandira Bedi discusses about her fitness secrets, and diet routine that keeps happy and spirited all through out the day. However, seeing her figure, and now, quite a lot of it, one would probably not follow her diet routine and fitness secrets at all, as she has already gained more than the required weight.
Mandira Bedi also says that the only celebrity body that she envies is that of Angelina Jolie's. According to her she has the perfect and the most timeless body. According to the sources, posing topless in Vogue, might add a lot to her portfolio, and film makers at international level, may also take notice of her now. Considering the dormancy in her Bollywood career, this might just be the right strategic move to gain some limelight.
Filed under:
Bollywood
,
Celebrity Facts
,
Celebrity Wisdom
,
Entertainment
,
Media
,
News and Gossips
,
Page 3 Events and Parties
,
World
Tags:
Angelina Jolie-Gadget
,
India
,
Maharashtra
,
Mandira Bedi
,
Mumbai
,
Shanti
,
Topless
,
Vogue